This post includes a long list of Baby Registry Must-Haves based on the many recommendations I have received from good friends and current moms. Keep in mind that I am writing this *BEFORE* baby arrives (around 29-30 weeks) and I will most likely update after baby arrives with the things that we have/haven't used or loved, or additional items that we found to be essential, etc.
I am not saying that any of these items are the "best" or what YOU need, but a lot of them are things I chose specifically because someone I trusted recommended them to me. For items we have already purchased, I'm not really looking for advice or having people talk me out of them LOL. Thank you in advance for letting us figure it out as we go. ; )
There are SOOOO many options out there for baby items, and the prices vary significantly, so ultimately you have to do what you feel is best for you and what is realistic for your budget as well. I hope this post at least helps provide direction for different items you may have been considering for your babe on the way or newborn!
advice for first-time-moms
It can be very overwhelming to be pregnant with your first baby. Everyone has a LOT of opinions and advice to give, mostly well-meaning, but that doesn't make it feel any less overwhelming. All I know is this: my baby was made for us, and us for him. We will figure it ALL out together, and it's going to be okay. We don't need all of the fanciest items in the world in order to have a happy and healthy baby. (Hopefully this is a helpful reminder to some of my fellow first-time-mommas out there, too.)
Also, from what I hear, literally every baby is different. Some love certain swaddles and swings, while others may hate those same things. I'm trying to go in without a lot of specific expectations (regarding the birth process, breastfeeding, postpartum, etc.), because I know a lot of it will be out of my control and subject to change. You can only "plan" for these things to an extent.
No matter what, it's going to be great. It's going to be exhausting, and challenging, and defeating at times. But I have no doubt it will be 1000% worth it. Ethan and I are so excited to begin this next chapter together.
Okay, let's get to the reason you're here. These are listed in no particular order, and I have provided direct links to each item.
UPDATE: here I am now 20 weeks postpartum, and I have gone through this list to either say if I still recommend something, whether or not we used it / thought it was worth it, etc. So this is now updated for post-baby!
Disclosure: these are commissionable links. Thanks for supporting my small biz & using my links!
SLEEPING ESSENTIALS
HALO BASSINEST + EXTRA BASSINET SHEETS
The Halo Bassinet was highly recommended to us by several friends and we actually had some sweet friends pitch in together to gift it to us. Rhett slept in his bassinet in our room until he was 16 weeks and we were super happy with the Halo. It was nice and compact, as we don't have a ton of extra space in our master bedroom.
It is good to have a few extra bassinet sheets (maybe at least 3 sets) handy, in case they get spit up or any other fluids on them. ; )
HALO BASSINET LINKED HERE — there are several different kinds/versions so you can browse through and see which option you want. Some swivel/have other setting options. We just have the basic one.
BOPPY LOUNGER
We LOVED the Boppy lounger and used it a ton in probably the first 8 weeks of Rhett's life or so. It's just nice to have a place to set your baby when you need to be hands-free for a second (obviously before they can move much or roll, and not leaving unattended.) I would definitely recommend the Boppy. We never changed out our cover, but there are lots of cute options if you want to!
BOPPY LOUNGER COVERS — several different options linked under "baby items"
Other loungers:
There are a lot of opinions on these as well. Some people told me during pregnancy that they just used their Boppy Lounger and didn't need anything else. Some use these other loungers as well and enjoy them for different purposes like tummy time, etc.
I initially thought Dock-A-Tot was more popular, but when I did a poll on IG, a lot of people told me they preferred their Snuggle Me Organic, and it's about half the price. However, some said the Dock-A-Tot "grows with them" more and the Snuggle Me doesn't last as long. Of course this totally depends on the size of your babe and which size you buy.
We ended up getting the Snuggle Me Organic and really liked it and used it in addition to our Boppy. Do you *NEED* both? No. Did we *LIKE* having both? Yes. That way we could keep them in different rooms for different times we needed to set him down, but there were also times where he'd fuss in the Boppy and not the Snuggle Me, and vice versa, so kinda depended on his mood! We liked having options, but if you are choosing between one or the other, I'd say just get the Boppy lounger tbh.
Linking both below if you want to check them out. Snuggle Me also does "Imperfect" sales every Thursday where you can get them for amazing prices.
SWADDLES
Again, this is highly individual. A lot of people have their own preferences and I've heard about 100 times that "every baby is different". Some like their arms free, some don't. Some hate being swaddled at all. You truly never know what your baby is going to prefer until they are Earth side lol. But here are the most popular ones that were recommended to me, with Ollie probably being the #1, as well as the most expensive — go figure.
HALO SWADDLE — AdventHealth Shawnee Mission actually provides these at their birth center, so that is what we used for the first 8 weeks or so of Rhett's life, and really liked it! This will swaddle their arms down, and you can wrap it nice and tight so they feel cozy and secure. Over time, Rhett kept trying to creep his little hands up out of it, so we eventually switched over to the Love To Dream swaddle! (I will say the Halo was better for controlling his startle reflex, especially in the earlier weeks.)
LOVE TO DREAM SWADDLE UP — around 7.5-8 weeks, I started having Rhett take naps in his crib during the day, and experimenting with the Love To Dream swaddle. He really liked it because his hands could be up, but he was still swaddled and felt secure. (It's nice and tight on their belly, so you can see them breathing easily on the monitor, which I like! Also has a double zipper which makes life super easy.) I still did the Halo overnight for a few weeks before we fully transitioned to the Love To Dream overnight as well.
LOVE TO DREAM TRANSITION SWADDLE — I would honestly recommend just getting this one instead of the Swaddle Up because you can use it both ways. You can have both arms in when they still need to be swaddled, but once they start showing signs of rolling, you can zip off the "wings". Before he was really rolling, but was getting more active (around 10 weeks), we had him sleeping with one arm out. Then a few weeks later, we switched to both arms out! Now at 20 weeks he is still in the Love To Dream but just using as a sleep sack.
ZIPPER FOOTIE PAJAMAS — I kid you not; Rhett basically lived exclusively in these zipper onesies for the first 13 weeks of his life, lol. He was also born in January… but still! They were just SO easy to take on and off and nice and cozy. This brand is the BEST, and super affordable. Plus these have little fold over mittens to protect them from scratching their faces, which they will inevitably do, because their nails grow insanely fast. These are still nice to have for any time of year for around the house in the AC or overnight, especially when they are really tiny.
OLLIE SWADDLE LINKED — I know people LOVE the Ollie, but we never used it, and did fine without it. Linked anyway in case you are interested.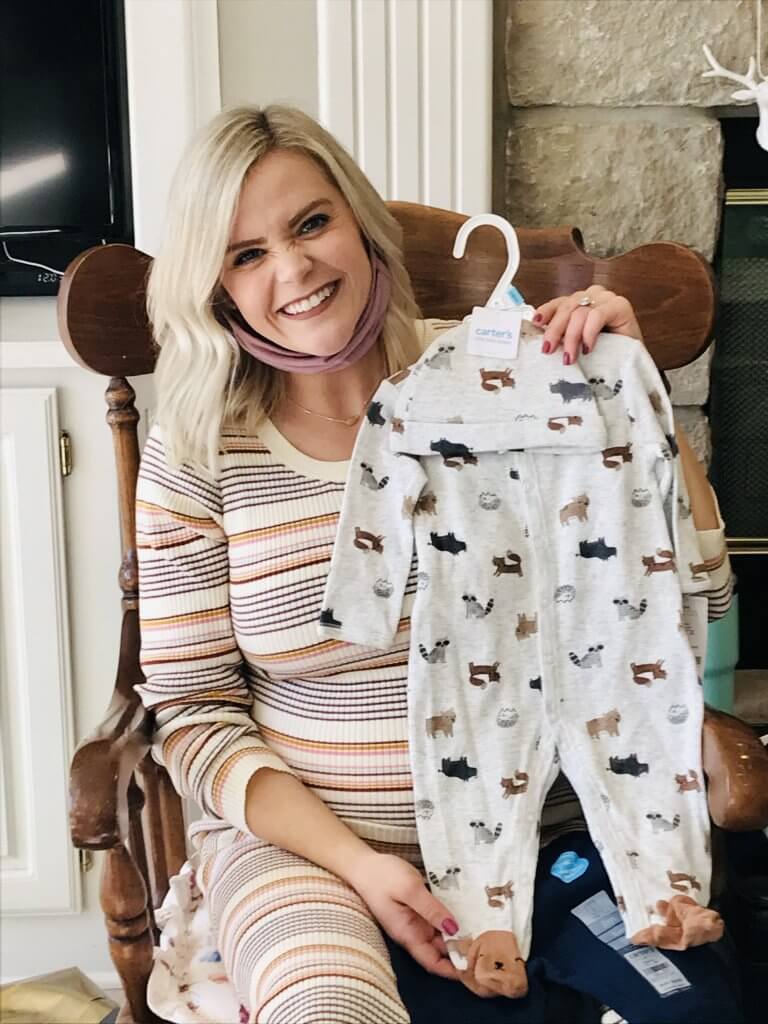 PACK AND PLAY / PLAYARD ORGANIZER
Again, tons of options here, but this is the one we went with. It is quick and easy to set up and break down, has a bassinet option, will grow with him and also isn't a major eye sore.
We didn't get one that has a little changing station on top because our nursery is on our main level and we have a changing table in there, so we have always just taken him there for changes. If yours is on a different floor it might be nice to have that option for easier access.
We actually really never use our pack & play at home, but know it will be nice to have for travel that we have coming up soon!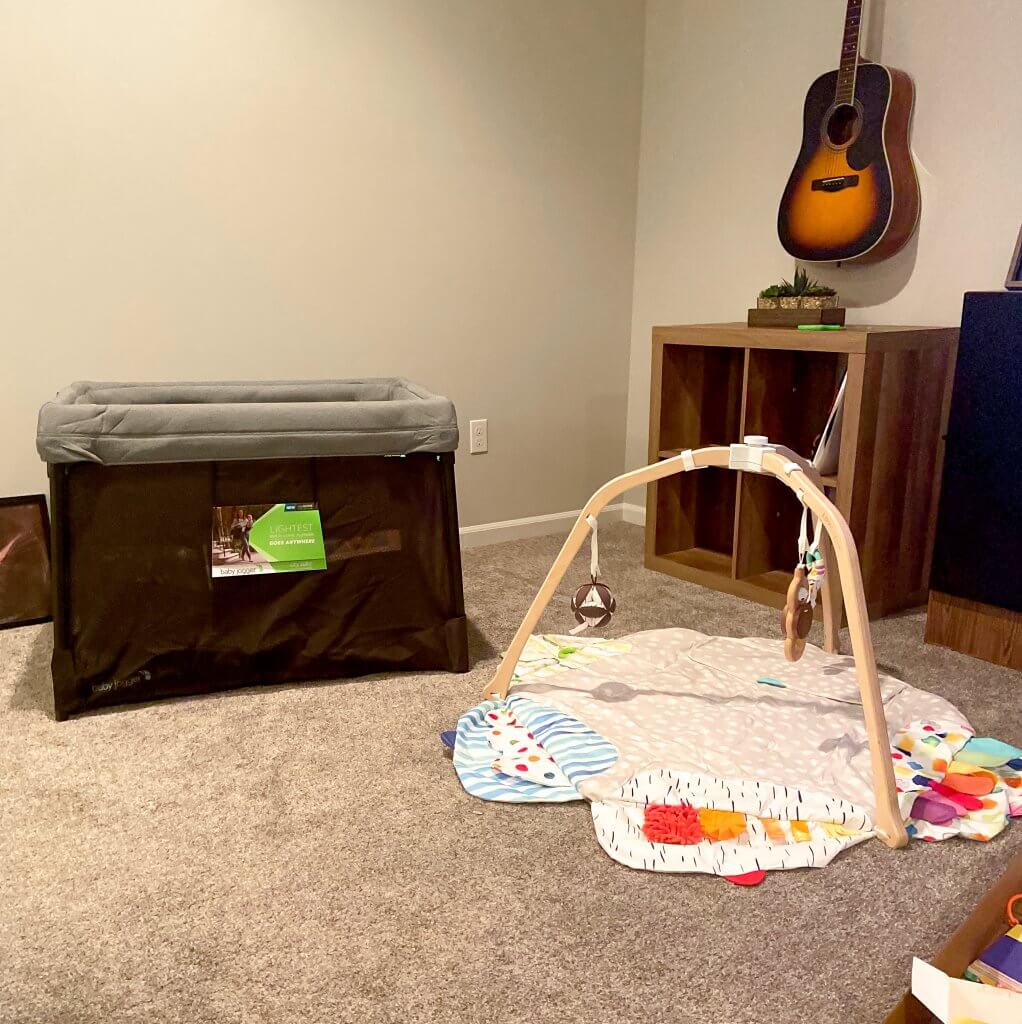 FEEDING ESSENTIALS
HAAKAA SILICONE BREAST PUMP
The Haakaa was one of the #1 recommendations I got during pregnancy and to be honest, I never use it, haha. I used it a few times when I was very early postpartum, but more so to hand express into it than use it how it's actually intended. I know a lot of people use it and love it (and built up their freezer stash with it), but I just did not find it essential personally.
However, if you want to find out for yourself, I linked it below. It's really cheap, so it doesn't hurt to have it in case. Again, I linked hand expressing into this better than anything else because I could kind of aim into it, haha.
BREAST PUMP
There are lots of breast bumps out there but after doing lots of research, talking with friends and weighing out my options, I went with the Elvie. It is definitely on the pricier side, but my employer does cover a good chunk of it, so definitely look into your insurance and what is covered for you.
I thought the convenience would be worth it, and I am so glad I chose it. It is so nice to have. It's definitely not perfect, but I go into all the deets in my FAQ post linked below. Also, their customer support is amazing.
Elvie FAQ blog post linked here
Otherwise I have heard good things about the Spectra.
MY BREST FRIEND Pillow
I'm currently 20 weeks postpartum and still use and LOVE this pillow for breastfeeding. It wraps behind your back and provides a little extra support and it's cozy for Rhett to lay on, and props him up closer to my boob so I don't have to bend over as much. I love this more than the Boppy nursing pillow personally.
BURP CLOTHS
I was told that we would need about 1 million burp cloths, and guess what? Y'ALL WERE RIGHT. Lol. Rhett has always been a "happy spitter", which our pediatrician says is a laundry problem, not a medical problem. ; ) So. Much. Laundry. Oh my gosh.
But I couldn't be more obsessed with these burp cloths and recommend getting like at least 5 packs of them. They are way better than any others out there. Super soft and perfect size. Also crazy cheap. Highly recommend.
Amazon burp cloths linked here
BOTTLES
I was always told that different babies have different preferences for bottles also, but I had several friends tell me that their baby preferred Dr. Brown's, so that is actually all we have ever used with Rhett, and we really like them. He has always done well with them, and since he does spit up a lot, I think it's best for him to use these, since they slow down the flow. (I think that is good anyway to prevent them from eating too fast and starting to prefer bottle over breastfeeding if it's too easy / instant gratification! That may not be an issue for everyone though.)
BOTTLE DRYING RACK / "GRASS"
Countertop drying rack that holds all of your freshly washed bottles, pacifiers, pump parts and other accessories. They have them in bright green but I got a gray one, and they also have white! If you want it to blend in with your kitchen a little more. ; ) This is out on our counter 24/7, so I'm glad I went with gray!
HIGH CHAIR
I have heard amazing things about the IKEA high chair and it's literally $20, so I just ordered that! Then our good friend told us about this brand @yeahbabygoods that sells accessories to go with it! I have read that having a foot rest under them is really important and helpful while feeding so they are more supported, so I will definitely be purchasing the foot rest along with some other cute add-ons most likely. 🙂 Both linked below.
IKEA HIGH CHAIR ACCESSORIES WEBSITE
SILICONE BIBS
Again… thinking ahead, but will be getting these for sure when it's time to start feeding.

NURSERY ITEMS
BABY MONITOR
We didn't want a baby monitor that used WiFi because a) our internet is unfortunately unreliable, and b) some people say that people can hack into your WiFi and look at your monitor which I'm sure is rare BUT, anyway. We went with a non-WiFi option. We were debating between the Infant Optics and Vava and ultimately chose Vava. They both have amazing reviews and are very similar. Vava has a slightly bigger screen and I had multiple people message me saying they really loved theirs and preferred it, so I just made the executive decision and chose it!
20 Weeks PP Update: we love the Vava and are super happy with it! Definitely recommend.
GLIDER/RECLINER
I know this hasn't been everyone's experience, but it took us about 7 weeks to get our recliner in, so I would suggest looking into this early and ordering early. Once I got to the third trimester I was very anxious to have things done and was annoyed this took so long, haha. But I love the one we chose! Super comfy and I have a friend who has had hers over a year and said so far it has held up great. We chose the fabric color "cloud" and also got their Guardian furniture protection spray which has a 3 year warranty just for peace of mind.
Still super happy with our recliner, too!
Recliner we chose linked here — it was coupon eligible too BTW! (20% off!)
Floor lamp pictured below linked here
DIAPER PAIL
We went with the Ubbi diaper pail based on recommendations from friends. I like the look of it and it has good reviews. 20 week update: we are very happy with this also! Works great.
Ubbi Diaper Pail bags – click here
NURSERY FURNITURE
We got our furniture set from Target and are really happy with it. I've heard from many of my IG followers that they have the same crib/dresser and have loved them and they've been durable! They are also pretty affordable so that's always a win, too. We use the changing table multiple times a day so we are SO happy we have this!
Larger dresser that matches linked here
HATCH NOISE MACHINE
We absolutely LOVE the Hatch. It connects to an app on your phone, there are a TON of different settings. I've also heard it's great to have as they get older because you can use the night light to signal different things, like when it's okay to get out of bed, etc. : ) We love this and definitely recommend.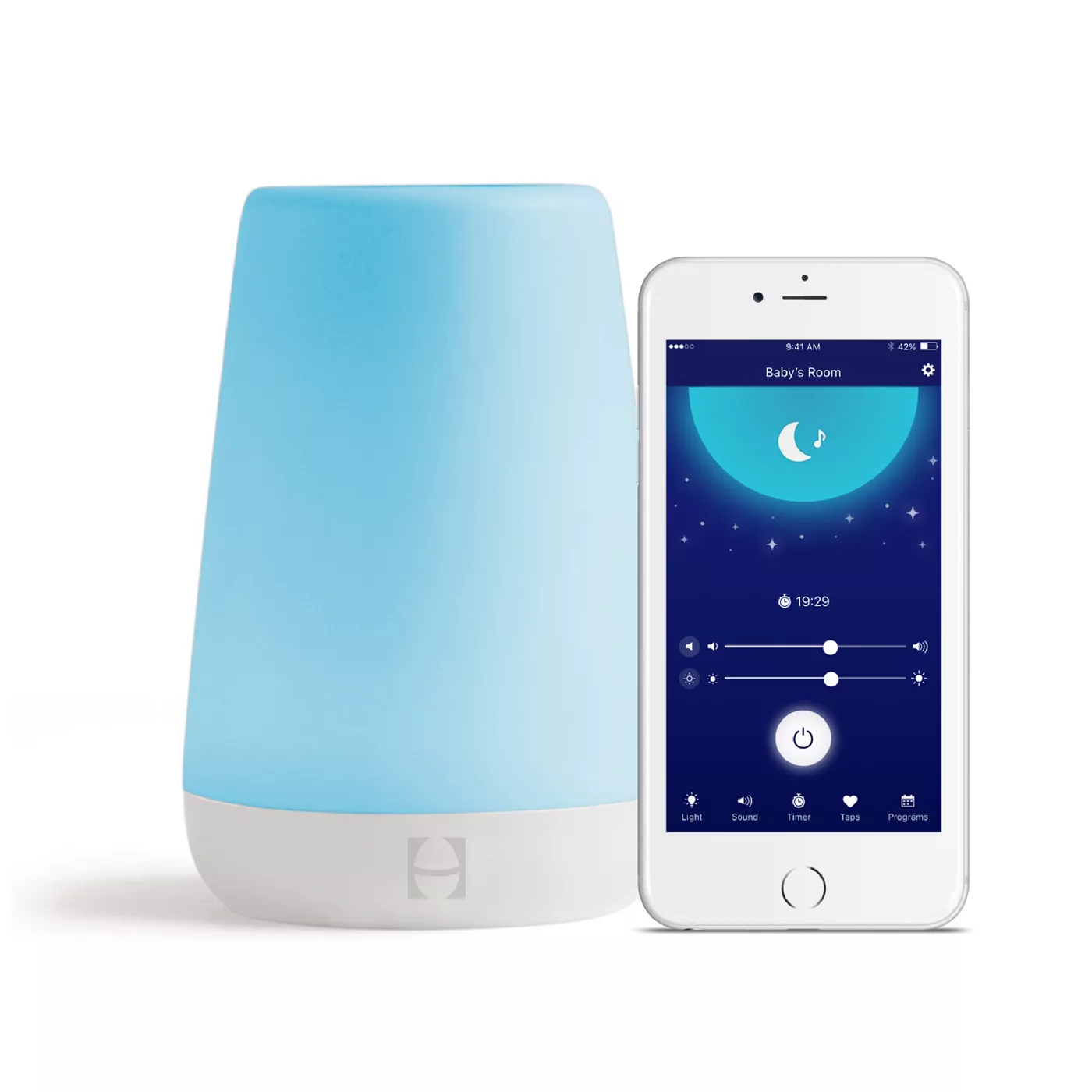 PORTABLE NOISE MACHINE
I also recommend snagging this one!! Really nice to have for travel and taking on-the-go / in the car, etc. You just charge it with a USB-C cord.
HUMIDIFIER
DO NOT – I REPEAT – DO NOT GET THE FRIDA HUMIDIFIER! I registered for it because it seemed like everyone recommended it, and hated it. It got super nasty super fast, so do yourself a favor and don't get it, lol.
I got this one off of Amazon recently and like it way better. It's kinda bulky and not very pretty, but way easier to clean and works great.

DIAPERING / HEALTH ESSENTIALS
owlet smart sock
Full disclosure — I definitely don't think this is "essential" and it is something that we haven't even decided if we want ourselves yet. I've heard a lot of pros and cons about it and just don't know if it would cause more or less stress for me. But either way, it's on sale right now, so I wanted to throw it in here for anyone who has had their eye on it.
DIAPER BAG
So far we have just gotten this more affordable Amazon diaper bag option, although I am still eyeing some cute leather bags that are way more expensive. I've actually had several girls tell me that they prefer this Amazon bag over their expensive bag because it's way more functional with all the different compartments! And you can't beat the price.
DIAPER CADDY / ORGANIZERS FOR VARIOUS ROOMS IN HOUSE
Saw my friend @hillarymichelleblog with this diaper organizer and added it to my registry! It's cute but also very functional. I hear that we will basically want a diaper station in every room of the house, and this one is portable, so that's a win!
DIAPERS AND WIPES – TBD ON OUR PREFERRED KINDS
BABY BATH TUB
Baby bath tub linked here – comes in 3 colors
NAIL CLIPPER
Highly recommended baby nail clippers
Nose and ear cleaner
I know there are syringes and multiple options to use here. One of my friends suggested this and said she found it to work better, so I'm going to give it a try!
Infant nose and ear cleaner linked here
GAS PRODUCTS, etc.
Linking a few products below that friends have said have been life savers for their babies. Not sure if they are things we will need or not, but I'm not mad about having them on hand in case!!

TRANSPORTATION
STROLLER AND CAR SEAT
We wrestled with this for a while but ultimately landed on Baby Jogger because we have multiple family members who have and LOVE them and say they have been so incredibly durable over the years. I heard the same from many of my followers and after talking to the very knowledgeable stroller guy at Buy Buy Baby, I was sold! I am pleased with this decision.
Keep in mind that you will have to buy a second base if you want one in your spouse's car also.
Baby Jogger travel system linked here
PORTABLE NOISE MACHINE
Another VERY popular recommendation. Many also recommended packing this in the hospital bag, but also great for traveling/using on the stroller, etc. This one doesn't require batteries — it charges with a USB.
PORTABLE FAN FOR STROLLER
Another big recommendation. Since our babe is coming in January, probably won't need it the first few months. ; )
CAR SEAT COVERS
These were also big recommendations. The Milk Snob ones recommended for anytime, but a ton of people suggested these fleece ones for winter babies.

TOYS / DEVELOPMENT
LOVEVERY PLAY GYM
The Lovevery play gym is a "stage-based play gym for baby's developing brain". It's award-winning and includes different components and activities to help with their development in many ways. I can't wait to see Rhett use it!!! I know a ton of people who have this play gym and their little ones love it.
Lovevery Play Gym Linked — this is an affiliate link
PIANO GYM
This piano gym has also come highly recommended from multiple people! We got this at one of our showers and I think it'll be nice to have this as an option too and get him excited about the different sounds and music, etc.!
ALL OF THE BOOKS
I'm not even going to link books because there are hundreds out there! But books are so important for their development and I can't wait to start reading to Rhett from day one!
I hope this list of Baby Registry Must-Haves + some tips sprinkled in was helpful for any other mamas-to-be out there! Like I said, I will definitely be sure to update it as needed after baby is here and we have learned a little more about what we do and do not need! : )
Thank you for reading!
Shanna