Things To Do in Indian Rocks Beach, Florida
We recently took a little family vacation (our first one with just the three of us!) and had such an amazing time! We went to Florida the week after Thanksgiving and the weather was beautiful and the area we went to was SO fun and family-friendly. I wanted to be sure to share all of our favorite restaurants + things to do in Indian Rocks Beach, Florida for anyone who is considering a trip there or looking for ideas!
For reference, Rhett was 10.5 months during this trip. (Very active/crawling like crazy, not walking quite yet!) We went to Montana with him when he was 5.5 months and he did amazing during that trip as well! See my blog post here on tips for traveling with a baby! It includes what to pack for baby, the travel stroller we love, the airport process, etc.
Disclosure: this post includes commissionable links. Thanks for your support of my small biz!
travel info – flights, rental car, etc.
We flew direct into Tampa on Southwest Airlines, coming from Kansas City.
PS: if you have a baby that is 7+ months or active/crawling, direct is the way to go, if you have the option. He was super easy on flights when he was 5.5 months and pretty much just slept the whole time. But at 10.5 months he was SO active and squirmy and it was a bit of a struggle to be honest, haha. We definitely utilized Cocomelon on the iPad and that only helped for a few minutes at a time lol. Thankful there were two of us to tag team!!! I wished we would've had a few more little books for him. (We got a finger puppet book while we were there that he loved on the flight home.) This toy below was great to have also.
The rental car process was kinda cool. Ethan used something called Turo, which is basically like Airbnb for cars. It was a lot cheaper than going through a car rental company like Enterprise and we had a great experience with it. Definitely recommend looking into this!
where to stay in indian rocks beach
We stayed at an Airbnb condo in Indian Rocks Beach and it was absolutely perfect and we highly recommend it! The location was amazing. It was a 2 minute walk across the street to get to the beach and there were so many restaurants, coffee shops, etc. within walking distance also.
The condo was a 2 bedroom, so Ethan and I stayed in one room, and Rhett slept in the pack & play (provided by the condo!) in the other room. There was one bathroom that just had a shower (no bathtub, FYI, if you also have little ones). The condo also had a wagon and folding chairs and things to take over to the beach if you wanted.
If you are planning to cook at the condo a lot, just be aware there is not a dishwasher! We had intentions of going to the store early in our trip to prepare SOME meals there, but that never ended up happening, haha. So we ate out for every meal. Oops.
LINK TO OUR AIRBNB HERE (not affiliated whatsoever – this was a recommendation from a friend but we definitely would love to go back here!)
You might consider purchasing travel blackout curtains if you're traveling with a baby. That was a little bit of a struggle for us with his daytime naps – it was bright AF in the bedroom and he was not having it, haha. We ended up hanging towels from the windows and that helped slightly, haha. Just something to consider! (Affiliate link below with good reviews).
For Rhett we packed: noise machine, sleep sacks, baby monitor, pacifiers. We packed an overnight diaper for each night of the trip (we love Huggies overnight diapers) and enough regular diapers to get us through the first few days, and then bought one pack of diapers when we got there and one pack of wipes was sufficient for the week.
where to eat in indian rocks beach — breakfast, treats & coffee shops
Cafe de Paris – super cute breakfast place with croissants and baked goods, sandwiches, crepes, coffee, etc. Walking distance from our condo.
Maggie Mae's – breakfast spot on the water, pretty view. Food was pretty average, similar to like Denny's tbh lol but we didn't order super exciting stuff. My omelet and WW blueberry pancake were good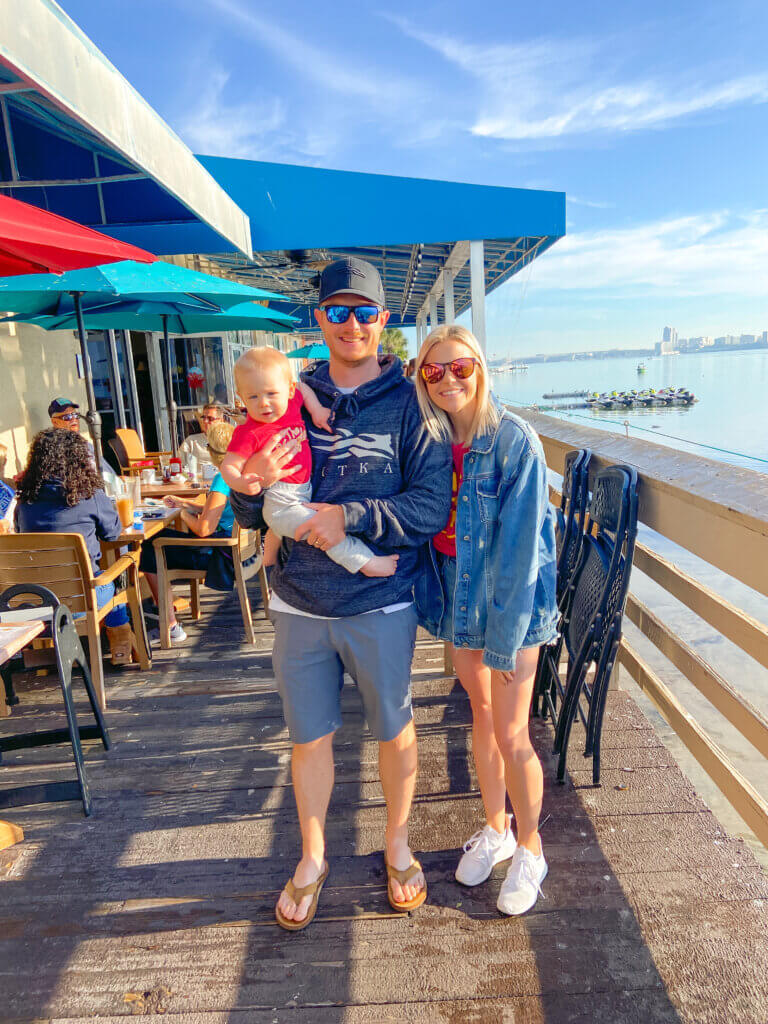 Pipo & Betty's Bakery- good coffee, smoothies and baked goods, muffins, croissants – small inside, more of a to-go place, small 2 seat tables so not super baby friendly, but cute
Indian Rocks Cafe for iced coffee – also have smoothies, healthy eats, etc. Walking distance from our condo. Super sweet owners.
IRB Creamery – delicious ice cream. In the same strip as Indian Rocks Cafe.
Indian Shores Coffee – come some yummy iced coffee here  
where to eat in indian rocks beach — lunch & dinner spots
Keegan's Seafood Grille – we got this to-go the first night we were there since we had traveled and got in around dinnertime. It's a pretty casual hole in the wall, 12 min drive from condo, yummy food! I think I got a mahi mahi sandwich and fries and it was delicious. And we split fried grouper and that was yummy too.
Salt Public House – super yummy food, bar-like, lots of patio tables. E said "best patty melt" he's had. Bomb fries. Service was amazing, the servers were SO sweet to Rhett (we were able to walk here on the beach from our condo).
Frenchy's South Beach Cafe (this was actually in Clearwater) — indoor and lots of outdoor seating, casual, really delish food, big menu. We ate here after checking out Pier 60.
American Social Bar and Kitchen — we ate here after the aquarium in Tampa. It had a nice huge patio right on the water, really pretty view and bomb food. I had a delish salmon salad & E loved the oysters and chicken quesadilla!
Slyce Pizza — we got takeout for dinner one night. Sadly, Ethan's was pretty burnt, and the garlic knots were overdone too. BUT, we heard it's amazing so we are gonna give them benefit of the doubt and say they had a bad night lol.
Olde Bay Cafe — this was a cute spot on the water in Dunedin. We got the seafood sampler. Very casual food. It was good but not amazing IMO.
Caddy's – we ate here the day we went to John's Pass and it was amazing. Bomb food. We ate there a few years ago when we went to Treasure Island a few years ago.
Salt Rock Grill — super classy place. We ate here for dinner on our last night. Honestly, wouldn't recommend going there with a baby, haha. The food was amazing and atmosphere was really nice. Sadly, Rhett was maxed out at that point and was SO fussy that we had to box up our dinner and leave LOLllllll. #parenting #reallife — but seriously, GO HERE if you are in the area!
things to do in indian rocks beach (or nearby)
Nature Reserve in Indian Rocks Beach – we saw eagles, owls, turtles and there was a really pretty trail and bridge to the intercoastal, pretty view of the water (it was a really quick drive to get here from Pipo and Betty's). BTW, this was free!
Nekton Surf Shop was right next to Salt Public House (good lunch spot) – had cute clothes and sunglasses and stuff. I think you can also rent bikes there maybe?
Pier 60 (Clearwater) — great for watching the sunset, but when we were there it was windy and cold so we didn't stay long lol. $1 admission per person, $4 parking. Fun area and other things to do, beach, etc. Would've been great on a better weather day!
Tampa Aquarium (the Florida Aquarium) — $10 parking, about 45-60 minutes from our condo (there was quite a bit of traffic when we went). We booked a time slot online in advance. It took about 45 min to get through, and it was fun! Ethan and I both enjoyed it & Rhett seemed to like looking at everything. We brought our Zoe stroller and probably should've just worn him with the baby carrier. As you can see, we held him the whole time, which was fine! : )
Dunedin — cute downtown area with tons of shops, book store, restaurants and lots of ice cream places 
Just walking on the beach is the best! We did this multiple times and also watched the sunset on the beach right across from our condo and it was absolutely gorgeous. And free! 🙂
John's Pass – a big long strip with lots of fun little shops and places to eat, cute area. Would recommend!
It was so fun writing this post and reminiscing on this amazing trip with my little family. We had such a great time and made some amazing memories with our little dude. I mean it when I say we would love to go back to this exact area. It was just so family friendly, everyone we encountered so was nice, amazing service everywhere, it was so walkable, which we loved. So much yummy food. It was just the best.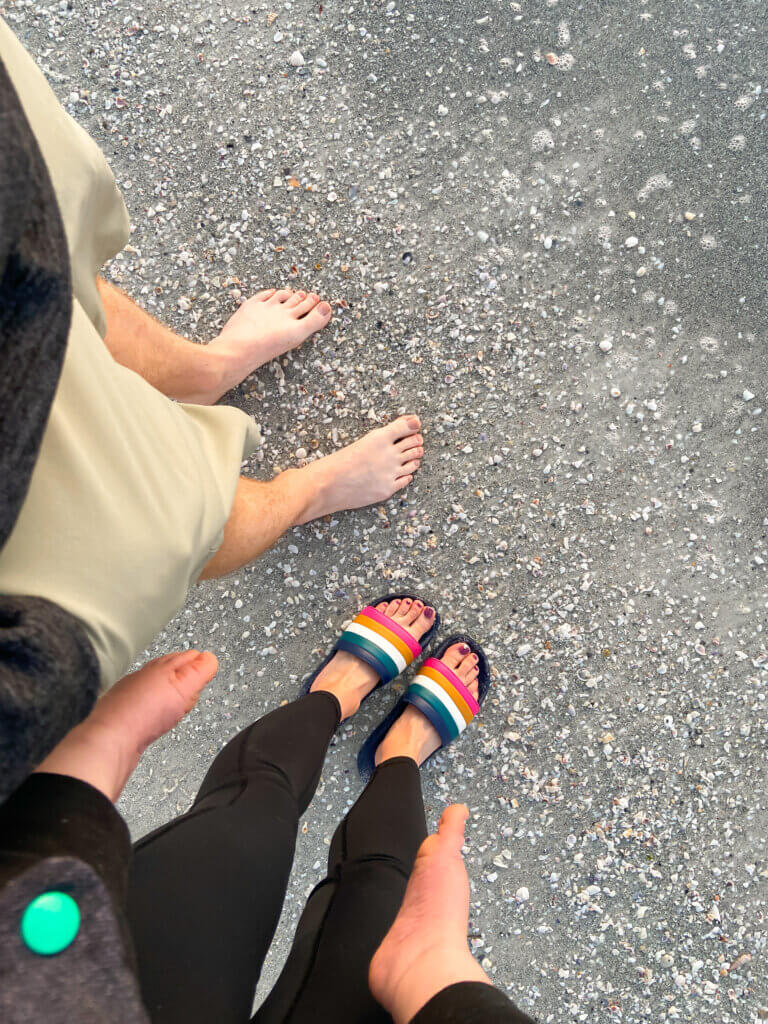 Also, if you're wondering about the weather during the time of year we went (week after Thanksgiving, end of November/early December), it was very pleasant. Definitely cool in the mornings and at night (I'd wearing leggings and a light jacket or sweatshirt), but got nice and warm during the day! Usually mid-70s or so.
We knew that with Rhett being 10.5 months, we wouldn't exactly be relaxing on the beach at all anyway lol, so we really didn't mind that it wasn't super warm/laying out weather. We really enjoyed it, plus it was fun seeing all the Christmas decorations everywhere!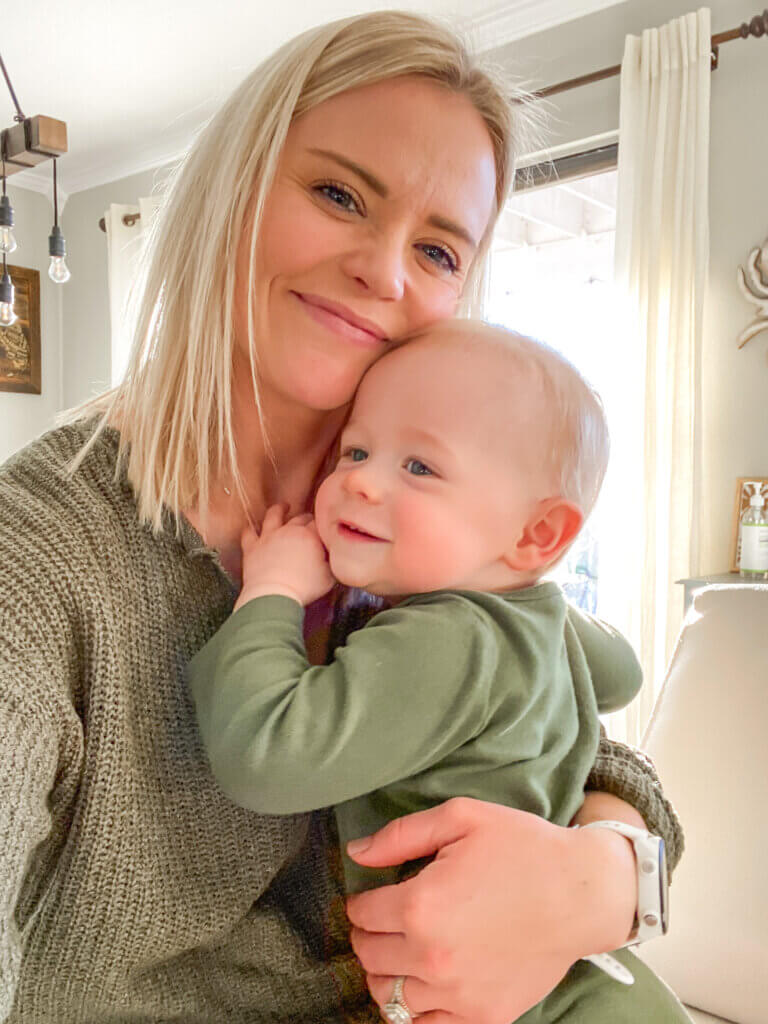 I got tons of great recommendations from my followers while we were there as well, but sadly didn't have enough time to try all of them! If I can find them all in my thousands of screenshots, I'll try to add them to this post eventually, LOL. Or if you're reading this and feel passionate about something that needs to be included, please drop it in the comments below!
I hope this little round-up of things to do in Indian Rocks Beach, Florida was helpful! Please let me know if you have any questions!
XO,
Shanna