WFTW Travels: Piney River Ranch Recap
Happy Hump Day friends!
As you all probably know, Ethan and I just got back from an incredible getaway at Piney River Ranch in breathtakingly beautiful Vail, Colorado. Ethan found out about the ranch from a coworker a while back, and once we looked into it, we knew we had to make this trip happen. We booked it several months ago and have been looking forward to it and preparing for it ever since.
Taking this trip in September was perfect for us for several reasons. Ethan's birthday and our wedding anniversary are both in mid-September (the 13th and 16th, respectively), and the weather was perfect at this time of year. Ethan loves Colorado so much and would gladly move there (sorry, not happening; KC is home), and he especially loves the snow. Me? Not so much. I prefer to not be freezing cold, so this was a good compromise. The evenings and early mornings got very chilly, but during the day when the sun came out it felt amazing. It was the best of both worlds! We even got to see the leaves starting to change colors, and we missed the super busy time (July-August) when kids are out of school. It was super peaceful, which was exactly what I needed!
Since a lot of you probably aren't familiar, I'll give you a quick run down of what you can find at Piney River Ranch. They have three glamping tents, four cabins, a "yurt" that sleeps ten, and a beautiful event space for weddings! We stayed in one of their glamping tents and loved it. There was a nice queen bed, a table and chairs, two twin beds (which is great if you have kids with you) and a wood-burning stove.
If you are interested in visiting Piney River Ranch, here are some tips regarding what to pack (for camping, clothes & food) and more details on our favorite activities we did on our trip!
Order of events:
Camping Essentials
Amenities at Piney
Meal & Snack Ideas
Activities We Did at Piney River Ranch
Lots of beautiful pictures of our trip!
Feel free to scroll to the section(s) that you're most interested in reading about! 🙂
Camping Essentials:
Extra blankets
Hiking boots (break them in beforehand!!!) & a few pairs of thick, high socks
Big insulated coolers (we brought a medium sized one for water bottles/extra ice, and a large Rtic cooler for our food and alcohol)
Head lamps and/or flashlights
Camelbak backpacks — it was super clutch to have easy access to ice water through a straw while we were hiking!
Hats, sunscreen, sunglasses. Gotta protect your skin when you're that close to the sun! ; )
Layers!!! It got super cold at night, but it was warm during the day, so it was nice to have options. I wore leggings pretty much every day + a short sleeved shirt/tank, and always had either a fleece, hoodie or light rain jacket with me. Definitely recommend having something wind/rain proof, as it does rain there for a short time on most days. I honestly wished I would've have a winter coat for the evenings, but having an extra blanket by the fire helped a lot.
Bug repellent. We brought several forms of this — bug spray, wristbands that are supposed to keep bugs away, etc., but we actually didn't have any issues with bugs! I'm not sure if it's worse during the hot summer months, but in September we were good! Never hurts to be prepared just in case.
Binoculars. Not a total necessity, but they were cool to have for certain things!
Hard plastic egg case for the cooler (link). We grabbed one of these for super cheap at a sports store, but it was clutch and kept our eggs from breaking on the bumpy road up to Piney, and we didn't have to worry about the egg carton getting soggy and gross!
Plates/utensils if you're planning to cook your own meals. We brought old silverware we didn't care about + some reusable plates and a few paper plates.
Insulated, reusable cups (like Yeti, Rtic or similar brand) for coffee, drinks, etc.
Koozies for beers
Grilling kit (spatula, tongs, grill brush, etc.)
Large pan or cast iron skillet for cooking eggs/fajitas, etc.
Extra toilet paper and paper towels. We didn't have any issues needing TP since we didn't end up going on an all-day hike, but paper towels were nice to have for cooking/meals, etc.
Lighters, lighter fluid and/or anything to help you build campfires (they had newspaper for us)
A car with 4-wheel drive! The dirt road up to Piney is VERY bumpy, so we were thankful to have Ethan's big, tall truck. If you don't have a truck or 4WD, you will be okay, but having a car that sits higher up is definitely more ideal.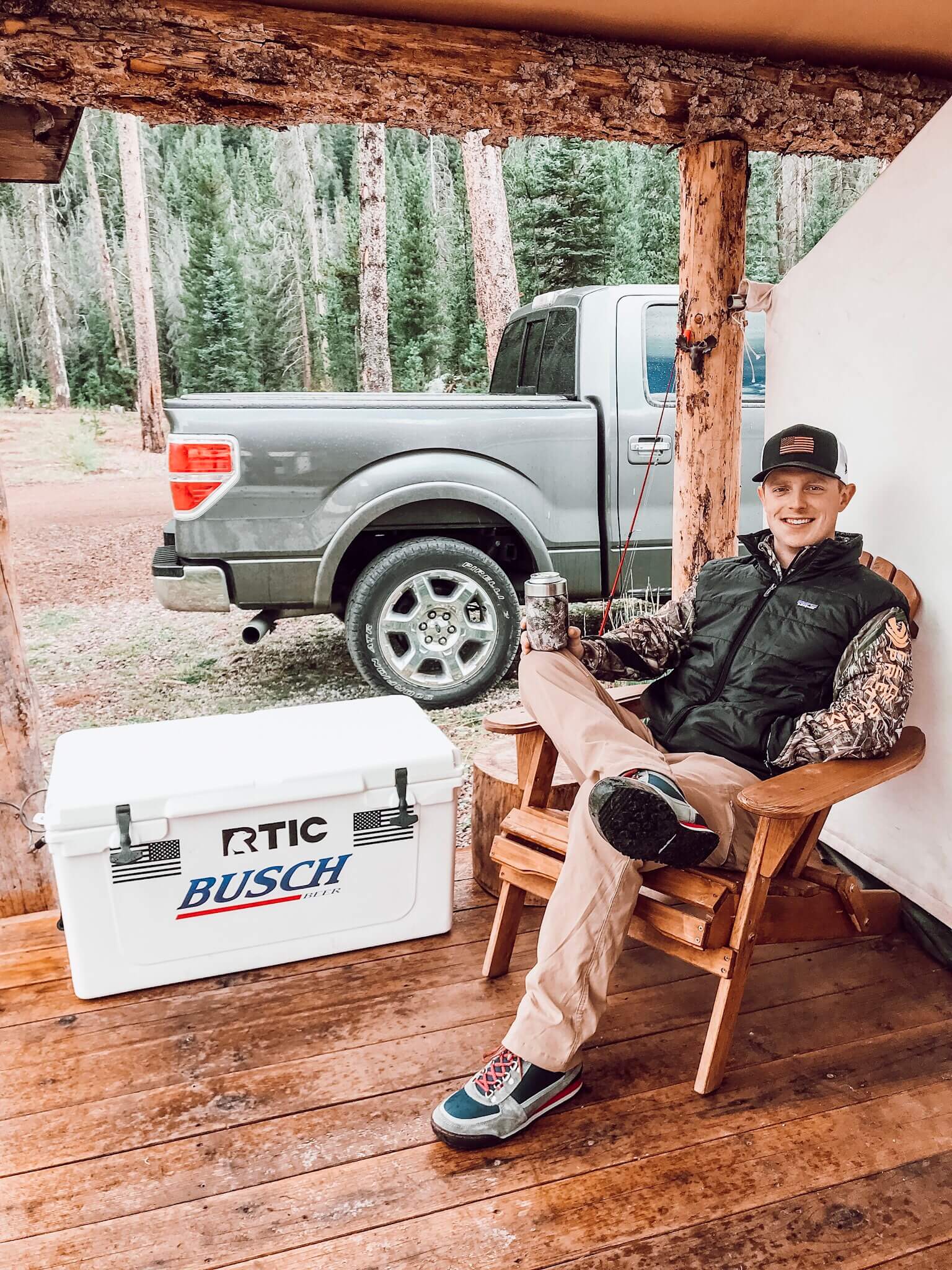 Amenities at Piney:
They had outdoor bathrooms similar to Porta Potties, but they also had nice, flushable toilets in well-lit bathrooms with sinks and mirrors where you can wash your face, brush your teeth, etc. It was a tiny bit of a longer walk from the tent, but worth it to me. Ethan, however, disagreed when I had to pee at 3 am. 😉
We didn't think we would have electricity, but much to our surprise, we did! This way we were able to plug in and charge our phones, Apple Watch, etc. No, there is NOT cell service or WiFi (which we loved), but I wanted to have my phone to take photos since everything was so beautiful! And I also wanted to wear my watch to see how many steps I'd get while we were exploring! I got almost 30K one day!
Wood burning stove inside the tents to help keep you warm at night. It got down to probably 40 degrees Fahrenheit in the late evenings/early AM, so we slept in sweatpants and sweatshirts with about 9 blankets on top of us, haha! So definitely bring extra blankets.
I would also recommend bringing some gloves and warm hats.
Each campsite had a propane grill and a fire pit to build campfires. We utilized both of these a ton. Ethan bought a pop up propane grill on Amazon not knowing we would have one there, but he still used this to make coffee in the mornings! (Link  to the camping coffee maker.) However, they have coffee & hot water for tea/cider ready in the main lodge at 9 AM every morning, so that's a great option too.
They have ice bags for coolers and logs for the fire available at the main lodge.
They also have a restaurant onsite that serves hot lunch & dinner, and a full bar, if you don't want to prepare your own meals. We actually didn't get any food there, as we went to the grocery store beforehand and bought plenty to make our own meals, but we did visit the bar a few times! You are on your own for breakfast. You can also bring your own alcohol.
If you are staying for longer than two nights, they do have showers you can use. Otherwise we got body wipes on Amazon to clean ourselves with. Kinda gross, but that's camping for ya, right? 🙂
Meal Ideas:
Turkey sandwiches for lunch (we used turkey, pepper jack cheese, avocado, red onions, & Hope Foods hummus on whole grain bread)
Peanut butter & jelly sandwiches
Banana/pumpkin bread or muffins for breakfast (I made mine at home in advance)
Scrambled eggs
Turkey burgers (whole wheat buns, ketchup, pepper jack cheese, avocado, any toppings you like; we got pre-made patties)
Chicken fajitas (grilled chicken breast, bell peppers, onions, avocado, salsa, shredded cheese, whole wheat tortillas, and don't forget spices!!)
Other things to bring for meals: cutting boards, knives for chopping veggies/meat, sandwich/storage size Ziploc bags, foil, nonstick cooking spray
Snack Ideas:
Pretzel nuggets (PB filled pretzels)
Protein bars
Unsweetened dried fruit (mango, pineapple, etc.)
String cheese
Whole grain crackers
Hummus + carrots/bell peppers
S'mores fixings! (And metal skewers for marshmallows)
Piney River Ranch Activities:
Horseback riding with their awesome wrangler New New. My horse was Tank and Ethan's was Gunsmoke! They were so sweet and beautiful! We went on a 2-hour ride through the mountains and it was amazing. We both agreed this was our favorite part of the trip!

Canoeing
Hiking — we went on about a 3 hour hike to see some beautiful waterfalls, and it was tough! Thankfully the path was pretty defined, but it was still tough, especially since we were still adjusting to the altitude. Definitely a good workout!

We were planning to hike Mt. Powell, which is right by Piney River Ranch, and a 13-er; however, after riding horses for 2 hours and hiking for 3 hours one day, we were exhausted and didn't know if we could handle that hike the next day! We were also told that the path up to the peak was not very clear and we were a little afraid of doing it ourselves and getting lost. The weather ended up being super rainy that day anyway, so it was a bit of a blessing that we changed our minds! Our goal is to make it happen next time. : )

Fly fishing (you can get a fishing license at a local sports store for pretty cheap; a 3 day pass was around $30 for Ethan — may differ if you live in state)
Exploring on your own!
We also saw a ton of moose on our trip, which was so cool!
We had planned to stay at Piney for three nights, but ended up staying for two nights. We got there around 1:30 PM on Sunday, so we had a full afternoon and evening that day, plus all day Monday and left in the early afternoon on Tuesday. That gave us enough time to do all the things we wanted to do and really experience it all! The only reason we headed out early was so we could stay in Denver the last night and shave a few hours off our long drive home to Kansas City the next day. We also kinda wanted a nice thorough shower before our 8 hour car ride lol. ; )
We absolutely loved every second of our trip to Piney River Ranch and we are definitely planning to go back in the near future. It is very family/kid and dog-friendly, in case you were wondering about any of those options! You can find all of the pricing information on the Piney River Ranch website if you're interested in making a trip! Their weekends book up pretty far in advance, so I would recommend jumping on it ASAP if you are interested.
Below is the beautiful event space for weddings. That background is unreal!
Here are just a few more beautiful photos from our trip and of Piney River Ranch!
If you have any more questions about our trip, Piney River Ranch or anything of that nature, please feel free to comment below, DM me on Instagram at @wellnessforthewin or email me at [email protected]! I'd be happy to answer anything or just talk more about our experience! 🙂
Thanks so much for reading and have a great week! 🙂
Shanna
#PineyRiverRanch #Colorado #MountainViews #WellnessForTheWin