Elvie Breast Pump Review and FAQs
My Elvie Breast Pump Review and FAQs post is finally here! This is long overdue, but when you have a newborn and work full-time, it's a little difficult to make blog posts happen. ; ) I am finally addressing all you could ever want to know about the Elvie wearable breast pump. (linked here)
Now that I am back to work full-time and pumping several times a day while Rhett is in daycare, I feel like I can answer these questions even better than I could previously, so it is probably for the best that I waited! In the early weeks of Rhett's life I collected a ton of questions from my Instagram followers about the Elvie and I've included them all here.
In addition, I added troubleshooting tips for anyone who already has an Elvie and wants some extra guidance on how to use it.
FYI: I am NOT claiming to be a professional in this area, I'm not a lactation consultant, and none of this is meant to be medical advice. I am just sharing what has worked for me and providing tips, but if you ever have questions or concerns, obviously check with your own healthcare provider.
Lastly, this is NOT sponsored by Elvie whatsoever. These are all my real, honest opinions and experiences.
Okay, let's dive in.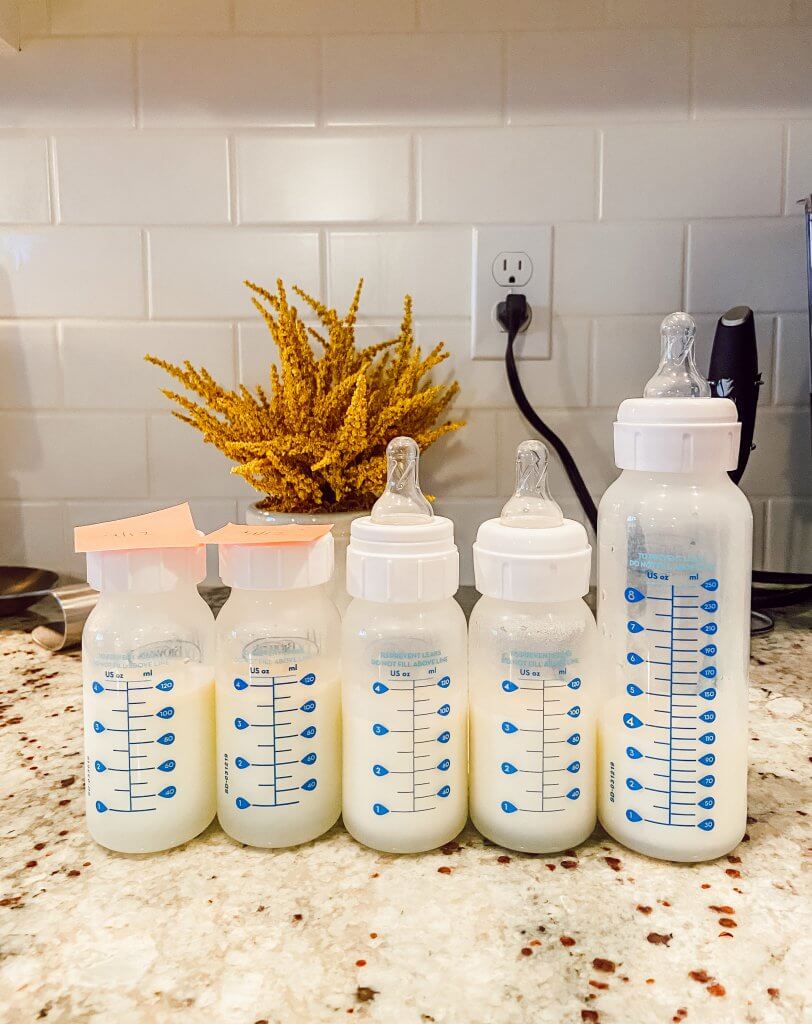 elvie breast pump review: QUESTIONS YOU'LL FIND withIN THIS POST, IN THIS ORDER:
Do you get similar output from the Elvie vs. a standard pump?
How long do you pump each time?
Is Willow or Elvie better?
Do you use an additional pump with the Elvie?
Can you strictly use the Elvie if you are exclusively pumping?
Does the Elvie work with huge boobs?
Would you be able to see it under my shirt if I'm pumping at work?
Is the Elvie loud?
Does the Elvie stop when it's full?
Does it ever leak?
Do you have the single or double Elvie? Do you need both?
How do you clean it?
What is the milk capacity?
Would you recommend if you're a super producer / have a large oversupply?
Does the Elvie hurt?
How often do you have to charge it?
Do you need spare parts?
Does insurance cover the Elvie breast pump?
Do you have a discount code for it? (Sadly, I don't, but I do get credit if you purchase through my link! CLICK HERE to check it out.)
Is it worth the price?
Does it ever go on sale?
Do you ever have issues with it?
Elvie Troubleshooting Tips
Summary
have you tried a regular pump? I am curious about output for the elvie vs. standard pump
This is probably the #1 question I get about the Elvie. I have personally never used another pump besides the Elvie, so unfortunately I can't share my own experience comparing the two. However, I have had several people message me who have used both, and told me that their output was VERY similar from a standard pump like the Spectra vs. the Elvie. (They've also said that the Elvie is a *game changer* in terms of convenience, not messing with cords and/or being tied down while pumping.) See this message below for a helpful comparison.
BUT, I have also had a few people tell me that their output was NOT as high from the Elvie. I think it just totally depends on you and your body / milk supply. If you feel like you aren't getting good output from the Elvie, you might try troubleshooting a bit and/or reach out to their customer support for help. (Their support is incredibly responsive and helpful!)
You might also check and see if your health system rents out standard pumps, because I know AdventHealth does. You could always try that just to compare in order to see if Elvie is the issue, or if you just have low milk supply for some reason, etc.
how long do you pump each time?
In the first few months, I wasn't really consistent with this, because I would usually pump at random times, and it was typically when I was engorged just to get some relief prior to breastfeeding or between feeds.
Now that I am back to work and pumping every 3 hours, I will do around 15 minute pump sessions each time. (I usually breastfeed Rhett around 6:30 AM before daycare.)
I have read that output is highest first thing in the morning (and I have observed this from most of my own pumping sessions as well), so if you are struggling with a low supply, you might consider doing longer pumping sessions at the first pump of the day to get more bang for your buck!
is willow or elvie better?
To be totally honest, I didn't do a ton of my own research. My sister-in-law and I were pregnant at the same time and she DID do a lot of research comparing the two. She found a lot more positive reviews for the Elvie vs. Willow, so I trusted her judgment and went with it, too! I'm glad I did, because I've had a few people tell me that they didn't like the Willow, or that it hurt, they don't accept returns, etc.
Again, I don't know much about the Willow aside from that, so it could be great, too! I'm just not the person to ask since I don't have personal experience with it.
do you use an additional pump with the elvie?
No. I only use the Elvie to pump.
can you strictly use Elvie if you are exclusively pumping?
Yes! I think it just depends on your personal preference and what makes sense for you and your lifestyle. Honestly I would think exclusive pumpers would especially appreciate the convenience of the Elvie.
does the elvie work with huge boobs?
I would imagine it would work fine for larger chests, because the most important thing is how it fits on your nipple. It comes with two different flange sizes and I believe you can special order different sizes if needed. You might see if you can find reviews specifically regarding this topic (from other women with larger breasts). I am a DD and it works fine on me, but I know that isn't helpful info for everyone!
Below are the nursing bras I wear and the Elvie fits well inside of them. I have size XL.
would you be able to see it under my shirt if i'm pumping at work?
Honestly, depending on what you're wearing, not really. Especially if you have a cardigan or something over it! It basically just looks like you have huge boobs under your shirt, lol. But otherwise, it really isn't very noticeable. There are lights on the hubs when it is on, but you can turn these off in the settings within the Elvie mobile app.
Is the elvie loud?
It's not completely silent, but it is pretty darn quiet. Unless someone is right next to you, then they really won't be able to hear it, assuming it's not dead silent in your office space. You can definitely be on a phone call or in your own cubicle without someone knowing you're pumping.
will elvie stop when full?
Yes, it will stop pumping when it is completely full and will not overflow. You'll feel it stop and it will notify you in the app that whichever side is full.
does it ever leak?
The Elvie could leak if you bend over, so if you need to grab something that's down low, squat! Lol. It is extremely nice being able to move around and do stuff when you're pumping, but you still do have to be conscious of this and can't be jumping around or bending over a bunch, etc.
With that said, you just want to be careful if you think you'll be holding your baby or need to do certain things that could possibly cause the pump to shift and stop working properly. I can stand up, walk around, fold laundry, eat, go pee, etc. and not have any issues with it leaking or moving.
Before I was back to work and Rhett was still at home, I would always try to pump either when he was napping or when Ethan was around so I didn't have to worry about picking him up or bending over to do things.
With that said, I never have issues with the Elvie leaking while I am pumping. The only time it leaks a little is when I take it off after my pump session and there is some milk in the center where my nipple was in the flange, and I feel like that is a little bit inevitable? Otherwise, no leakage for me.
do you have the double or single elvie? do you need both?
For cost purposes, I see why people would want to just get the single pump. But I really don't see why you would get the single otherwise. Both boobs need to be emptied (if you want to keep your supply up) and just using one pump for both boobs sounds like WAY more of a pain / time commitment than it's worth.
Trust me — just spend the money on the double. Highly recommend asking for gift cards and/or money to go toward the pump for your baby showers if you need to!
is it a pain to clean after every use? how do you clean the elvie?
Cleaning pump parts is literally the worst. No matter what, haha.
BUT, I learned a trick from many mamas who follow me PLUS a lactation consultant that makes it less awful. I've been told that you can store your pump parts in a Ziploc bag in the refrigerator between pump sessions, and just wash them with soap and water once at the end of the day. I've seen some controversy on this, but @donenaturally is an IBCLC that I trust, and she says it's fine, so I'm going with it! Haven't had any issues so far, and it makes life 100x easier than cleaning it after every use.
I rinse the milk off the bottom pieces with water and place in one large Ziploc bag, and for the breast shield and round turquoise piece, I use a Medela wipe to clean them and place in a separate bag so they don't get all wet. (I've found that getting that piece wet causes issues for the following pump session, so that has been what works for me.)
When I take all the pieces out of the Ziploc bags for the next session, I dry them off with a hand towel or paper towel before I start.
PUMP WIPES LINKED BELOW:
At the end of the day I wash all of the parts by hand with very hot water, Honest dish soap, and the brush that I use only on pump parts and bottles.
It does say that the Elvie parts are all top-rack dishwasher-safe. I don't do this usually since I'm already washing bottles by hand a lot and part of me worries about the parts wearing down if I do it too much, but their manual says it's fine! We just don't run the dishwasher every night and I don't really even think to do this.
what is the milk capacity?
The lines on the container say they go up to 5 oz each, but whenever I have pumped it all the way full, I feel like it's closer to 4.5 oz. So a total of between ~9-10 oz possible with both sides.
would you recommend if you're a super producer? (6+ ounces each side?)
To follow up on the previous question, I wanted to address this specific question I got. I think it just depends on your situation. (And whether you are going into the office or working from home).
The convenience of it is still awesome, but you'd just have to decide if you want to deal with taking it off, emptying it and putting it back on during each session, or if you wanted to shorten your sessions, or what that might look like for you! This would definitely be more doable if working from home I would think.
does elvie pump hurt?
You can adjust the level of suction using the buttons on the front of the hub or in the mobile app while you're wearing them.
Usually it does not hurt for me, but there are times when it feels less comfortable than others, and I'm not sure why. Possibly related to how full my boobs are at the time? Or the placement? Not sure honestly. But in general, it doesn't hurt. Sometimes it just doesn't feel awesome, lol. But same goes with breastfeeding if he ever has a lazy latch.
I've seen that there are "cushions" you can use for breast pumps but I'm not sure if these only work for standard pumps or if they would work in the Elvie, too. Haven't tried them myself!
how often do you have to charge it?
During the week I will pump three times a day for around 15 minutes each, or 45 minutes per day. I usually charge it every 1-2 days. I work from home, but if you do not, I would make sure to have a little pumping bag with all of your supplies in it and always have your charging cords with you since they don't last super long unfortunately. They are USB cords so you will also want little charging blocks to plug them into. They do recharge quickly!
do you need spare parts?
The Elvie comes with two sets of pump parts, except the flanges. There is only 1 set of each flange size.
does insurance cover the elvie breast pump?
Insurance coverage varies significantly, so I would reach out to your own insurance company and see what their policy looks like in terms of breast pump coverage.
For example, my insurance provider gives me a lump sum of money that I can put toward ANY breast pump for reimbursement later, whereas some insurance companies only cover certain types of pumps. They do accept HSA/FSA funds, per the Elvie website.
A few people recommended looking into Aeroflow Breast Pumps to see if you qualify through insurance. You just enter your info and apparently it will give you the list of what is covered and how much out of pocket you have to pay for other options!
do you have a discount code for the Elvie?
Unfortunately I do not have a discount code, but I believe @krista.horton on IG does. However, if you purchase it through my link, I will earn a small commission, which I always appreciate! So if you are planning to buy it online anyway, and want to support me in a small way while you do it, DM me for a link anytime, or click below to buy!
CLICK HERE TO VIEW OR BUY ELVIE PUMP
is the elvie pump worth the price?
I am hoping to be able to breastfeed (and therefore pump while Rhett is away from me at daycare) for around a year, which means I will be pumping 3 times a day, 5 days a week, for possibly another 9 months. I will absolutely get my money's worth in that time. Having the freedom to get up and move around (and/or pump while we have company over without it being noticeable, pump fairly easily on days we have events like weddings, etc.) is very much worth it to me.
Obviously, you have to take your budget into consideration, but when you think about how much you will use it, the convenience of it is priceless IMO.
does it ever go on sale?
I purchased mine through Buy Buy Baby and it actually was $75 off at the time, so there are occasional sales – keep your eyes peeled! I've heard sometimes it goes on sale around Black Friday or on Amazon randomly. If you ever notice it on sale, let me know so I can inform the masses, haha.
There are some other places you can get it online for cheaper, but I personally didn't trust any of those and wanted to get it from a reputable place in case I had any issues with it and wanted to be sure my purchase was legit so they'd replace anything if I ever needed them to.
Turns out, the day I went into labor I realized one of my hubs was dead – brand new out of the box. They responded to my email immediately (on a Saturday) and had a new one shipped out to me that day. Again, their customer service is amazing!! I was super impressed by this.
do you ever have issues with it?
Unfortunately, yes. I will fully admit that Elvie is NOT perfect and has its flaws. There are times when it will not latch for no apparent reason or not pump at all, even when you think it has been going for however long you've been wearing it, because it FEELS like it is.
Since I have been using it a lot more since going back to work, these are the tricks I have found.
ELVIE TROUBLESHOOTING TIPS
When you put your pumps on, be sure to start them through the Elvie mobile app in "Controls". During the first two minutes of your pumping session, there will be a line circling around the circle on the bottom (with 1-4 inside it).
Around the two minute mark, IF it is pumping as it should, it will stop circling around, and instead, a little wave will appear inside the circle (see above), indicating that the amount of milk inside is rising. It may rise and fall a few times at first, but it should keep coming back.
If you do NOT see the little wave show up around 2-3 minutes, check the pump on that side, because it probably isn't working. That way you can adjust it and put it back on before you waste 15 minutes only to find it didn't empty your breast at all. You will have to wait another 2 minutes before you can tell if the line is rising, but usually after I adjust it, it works the next time.
If/when you find that this is happening and you need to adjust it, check the turquoise pieces. I feel like it is always related to those somehow when this happens. Especially if they are wet at all or there is any moisture. And of course make sure it is positioned well (centered) on your nipple and you're using the correct shield size. (See a lactation consultant if you think you need to be fitted. I use the 24 mm I believe.)
From the Elvie site, this is what they say regarding sizing:
21 mm breast shield –> Base of nipple width between approximately 16mm and 18mm
24 mm breast shield –> Base of nipple width between approximately 18mm and 21mm
28 mm breast shield –> Base of nipple width between approximately 21mm and 25mm
so… is the elvie worth the money?
In summary, I am here to say that I totally recommend the Elvie and I personally do think it is worth the cost. Like I mentioned above, it is NOT perfect 100% of the time, but I would still choose the freedom that comes with it any day.
I hope this post was helpful for anyone who has the Elvie or has been considering purchasing the Elvie! If you have any questions, leave a comment below or shoot me a DM on Instagram @wellnessforthewin!
Happy pumping, mamas!
Shanna