Healthy Vegetable Frittata
Spring is finally upon us, which means it is time to mix things up in the kitchen and enjoy some new recipes and seasonal flavors! I'm so excited to be partnering up with my friends at ALDI to bring you a delicious, healthy vegetable frittata recipe.
Disclosure: this post is sponsored by ALDI USA and I am being compensated monetarily; however, all opinions expressed are my own.
This Healthy Vegetable Frittata is packed with protein and a variety of veggies to make a tasty and filling breakfast or brunch dish! If you'd like, you could even add some ground beef or ground turkey for additional protein. Use any vegetables you like or have on hand — you can easily switch it up each time you make it!
ingredients needed for this healthy vegetable frittata
Like I mentioned above, you can use any vegetables that you like or already have in your refrigerator, but I used the ingredients listed below! This frittata is super versatile and it's easy to pack the nutrition in with lots of different, fresh veggies.
Aside from the mix-ins, this recipe requires minimal ingredients!
Eggs
Milk of choice
Shredded Sharp Cheddar Cheese
Avocado Oil or Extra Virgin Olive Oil
Minced Garlic
Red Onion
Medley Tomatoes
Organic Zucchini
Organic Fresh Baby Spinach
Freshly cracked salt and pepper
Optional toppings: avocado, salsa, Stonemill Everything Bagel Seasoning
You could also cook ground beef or ground turkey first to incorporate for a meat lover's version!
why this healthy vegetable frittata is a great choice for breakfast
It's good for you. Eggs are a great source of protein and other vitamins and minerals, including choline, an important nutrient that most people don't get enough of. Mixing in a variety of vegetables is a great way to get dietary fiber and other nutrients. All of the different colors have unique nutrients to offer, so try to mix it up and "eat the rainbow"!
It's filling. Thanks to the combination of protein & fiber, this will keep you satiated for a long time! Add some avocado on top or have a piece of toast with nut butter on the side for some extra filling healthy fats.
Versatile. You can make it new each time by adding different mix-ins! Tomatoes, spinach, peppers, onions, mushrooms, zucchini, different cheeses — you name it!
Great for meal prep. This frittata can be made ahead of time and stored in the refrigerator for a few days. Just pop individual servings in the microwave to reheat!
Inexpensive to make. The main ingredient in this recipe is eggs, which are super budget-friendly, and when you do your grocery shopping at ALDI, you can even get great quality, organic produce at super affordable prices!
Quick and easy to make. Even the most amateur chef will have no problem whipping up this recipe! It's super simple and fun to make, and takes no time at all!
why i choose to shop at ALDI
I have been doing the majority of my grocery shopping at ALDI for years, especially since Ethan and I got married. I first started going there because there was a location super close to where we lived at the time, but I instantly fell in love. I couldn't believe how amazing the prices were, especially for the quality and variety of products they had!
I have always been so impressed with the produce section at ALDI. When speaking with my clients and followers, I often hear that cost is a barrier for many people when it comes to getting their fruits and vegetables in. This is why I always suggest that people check out ALDI so they can still get these nutritious foods in, even organic options, without breaking the bank. ALDI has high-quality seasonal foods at very reasonable prices.
I love visiting ALDI all the time, but I especially enjoy perusing the aisles as the seasons change to see what fun, new products they have on the shelves! If you've been to ALDI, you know what I'm talking about! The ALDI Finds aisle is always full of food, home and fashion goodies. I'm excited to see what pops up throughout the spring and summer!
Although I love browsing the aisles, I also LOVE the fact that they have curbside pick-up and online delivery options available now. I utilized these options a lot throughout the winter when it was freezing cold outside and I had a tiny newborn! It could not be more convenient!
If you haven't tried curbside pickup at ALDI yet, check out this post for more details!
what should I serve with a frittata?
Back to the recipe! There are lots of different options as far as what to serve on top or alongside your frittata. Since the frittata itself is primarily protein, consider serving it up with some satisfying carbohydrates, like breakfast potatoes, sourdough toast or fruit!
Check out this homemade cranberry chia jam recipe to spread on top of your toast! This time I used Season's Choice Frozen Berry Medley in place of cranberries!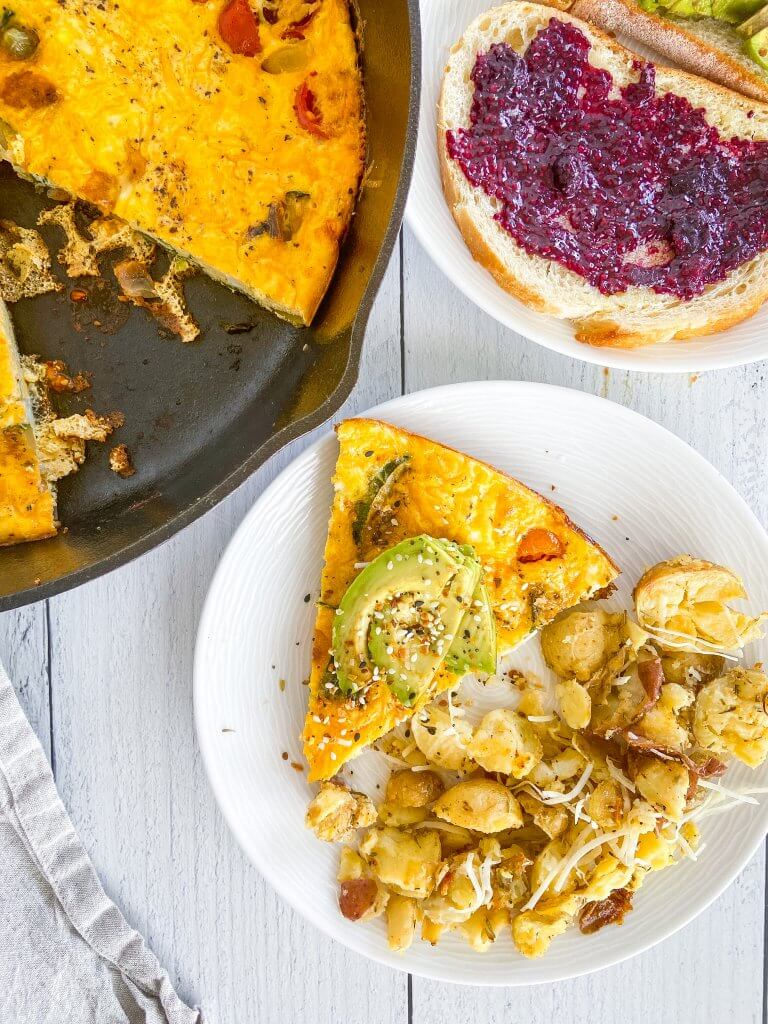 Other ways to make this frittata
Are you a meat lover? Start by cooking some Simply Nature Grass Fed Ground Beef in your cast iron skillet prior to adding in the veggies.
You could also use different types of cheese and many other vegetables, depending on the season and your taste preferences! Feel free to throw in fresh herbs or additional spices. I decided to season it simply with fresh cracked salt and pepper.
Lastly, you could make breakfast sandwiches by cutting the frittata into rounds or squares and serving it on toast or an English muffin. Highly recommend throwing some avocado and Stonemill Everything Bagel Seasoning on top!
Healthy Vegetable Frittata
This Healthy Vegetable Frittata is packed with protein and a variety of veggies to make a delicious, filling breakfast or brunch dish!
Ingredients
8

Goldhen Cage Free Large Grade A Eggs

1/4

cup

milk

unsweetened almond milk or regular milk of choice

1/2

cup

Happy Farms Finely Shredded Sharp Cheddar Cheese

additional if desired

1

Tbsp

Simply Nature 100% Pure Avocado Oil

1

tsp

minced garlic

1/3

cup

red onion

chopped

1

cup

Medley tomatoes

halved

1

cup

organic zucchini

sliced and halved

1

cup

organic baby spinach

packed

Salt and pepper

fresh cracked, to taste

Avocado

optional for topping
Instructions
Preheat oven to 400 degrees Fahrenheit.

Whisk the eggs, milk and freshly cracked salt and pepper in a medium bowl. Set aside.

Drizzle 1 Tbsp of pure avocado oil in a 12" cast iron skillet over medium heat. Add minced garlic and chopped red onion and saute for 30-45 seconds, or until garlic is fragrant and onion is translucent.

Next, add chopped zucchini. Saute for 2-3 minutes or until zucchini begins to brown and soften. Add fresh spinach and saute for ~30 seconds or until wilted. Next, add halved tomatoes and saute all veggies for an additional 30-45 seconds.

Spread veggies evenly throughout the cast iron skillet and season liberally with salt and pepper and any other spices, if desired.

Next, add egg and milk mixture to the cast iron skillet. Sprinkle 1/2 cup of sharp cheddar cheese on top before transferring to oven.

Place frittata into preheated oven for 15-20 minutes or until the eggs are set. (I recommend checking at 15 minutes and cooking for additional time if needed.)

Serve hot and add toppings if desired, such as sliced avocado, salsa, additional spices and seasonings, etc. Enjoy!

Store in airtight container in refrigerator for up to 3 days. Reheat individual servings in the microwave.
Nutrition
Calories:
122
kcal
Carbohydrates:
3
g
Protein:
8
g
Fat:
9
g
Saturated Fat:
3
g
Trans Fat:
1
g
Cholesterol:
172
mg
Sodium:
115
mg
Potassium:
194
mg
Fiber:
1
g
Sugar:
2
g
Vitamin A:
859
IU
Vitamin C:
7
mg
Calcium:
94
mg
Iron:
1
mg
I hope you all love this Healthy Vegetable Frittata as much as we do! Be sure to tag us on Instagram at @wellnessforthewin and @aldiusa if you give it a try! Also, share the love by pinning this recipe on Pinterest so you can easily refer back in the future!
Click here to find an ALDI store near you!
Enjoy!
Shanna