Curbside Experience with ALDI USA
I am so excited to share more about the new curbside experience with ALDI today! ALDI has rolled out the Curbside Grocery Pickup option to nearly 600 stores nationwide. At this point, I think you all know how much I love ALDI. : )
In this post I am covering the whole Curbside Grocery process from start to finish so you know exactly what to expect, how to order, where to go for pick-up and everything in between!
I also shared a collection of videos on my Instagram stories @wellnessforthewin, which I will save to an "ALDI Curbside" highlight for you to reference in the future.
Disclosure: this post is sponsored by ALDI USA, and I am being compensated monetarily; however, all opinions expressed are my own.
benefits of utilizing curbside with aldi
Due to current circumstances in our world, a lot of people don't feel comfortable going to the store and/or bringing their children with them. Utilizing Curbside helps you avoid going in-store and makes the process SO quick and easy! It also helps reduce the total number of people in store, which can help keep everyone safe right now.
Curbside is a wonderful option any other time, too, especially for those with busy schedules who don't always have time to make a full grocery run. You can even place your order days in advance if you prefer to plan ahead and pick up later!
Lastly, Curbside can help you save money! I don't know about you, but every once in a while I love to walk up and down all the aisles and pick up a bunch of new products to try. Other days, I just want to stick with exactly what I need and nothing else! Doing the shopping online can help you reduce impulse purchases at the register, too. ; )
how to create an account
When you get to the ALDI website, scroll down until you see "Delivery & Curbside Pickup available now." Click on that bar or "Shop Now" to redirect to the Curbside Pickup (and/or Delivery) page and start shopping online.
On the next page you will be prompted to create an account through Instacart.
If you have an existing account, you can enter your login information, or it may remember your information and you can begin with the ordering process. Otherwise, it will ask for your zip code, let you know if this option is available near you, and then ask for your name, email address and have you create a password for your account.
Once you have created an account or signed in, it will take you to the homepage where you can begin adding items to your cart!

how to add items to your list
From the homepage, you have a few different options. You can click on "Departments" and browse through the different options, such as Produce, Dairy & Eggs, Meat & Seafood, etc., or you can search for specific items in the search bar at the top.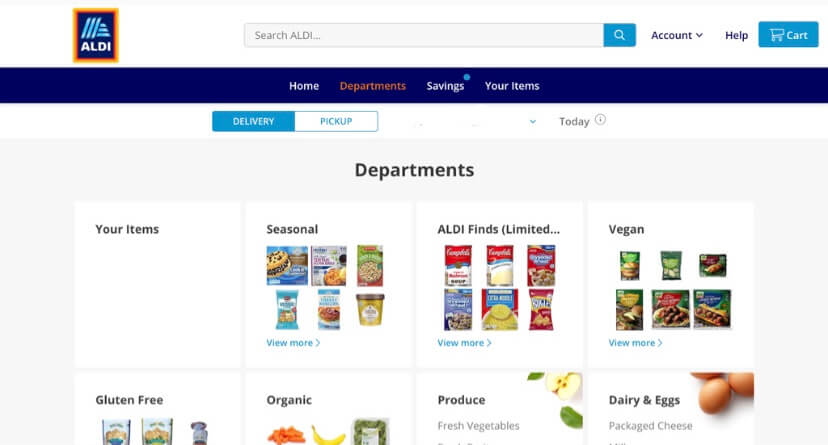 Once you find an item you want to add to your cart, you can either click the plus sign in the upper right hand corner for that product, or you can click directly on the item to open up a larger box and adjust the quantity you want to add to your cart.
If you click on the item, it will also show you other products that are frequently purchased with that item, such as salsa along with tortillas, bell peppers, chips, etc.
what if an item needs to be substituted?
When you are checking out at the end, it will ask you to add or edit a replacement option for certain items on your list. You can either say to "replace with best match" or "don't replace".
You will also receive text message updates once the ALDI employee is shopping for your order, and they will notify you if certain items are unavailable and/or need to be replaced.
If something on your list is unavailable and you don't want to replace it or there is not a suitable replacement, you will not be charged for that item.
how to choose your pickup time and location
Once you are finished adding items to your cart and you are ready to submit your order, you will have the option to confirm your pickup location and select the date/time you would like to pick up your order.
Depending on how busy your store location is, you should be able to pick up that same day, but you can also place your order several days in advance if you'd like!
how you know when your order is ready
Once you are finished with the ordering process, you will receive text and email confirmations letting you know that the order has been received, and you can also check the status through the links provided.
You will be notified via text when an employee has started shopping for your order and again when it is ready for pickup. Once you arrive at the store, click the link in your text message to notify them that you are in the pickup parking area and they will come right out!
If you are in the Curbside parking spot, click "Yes, I am"!!
where to park for curbside
There will be a designated Curbside area in the ALDI parking lot with blue parking spaces and signs indicating that those spots are for Curbside only.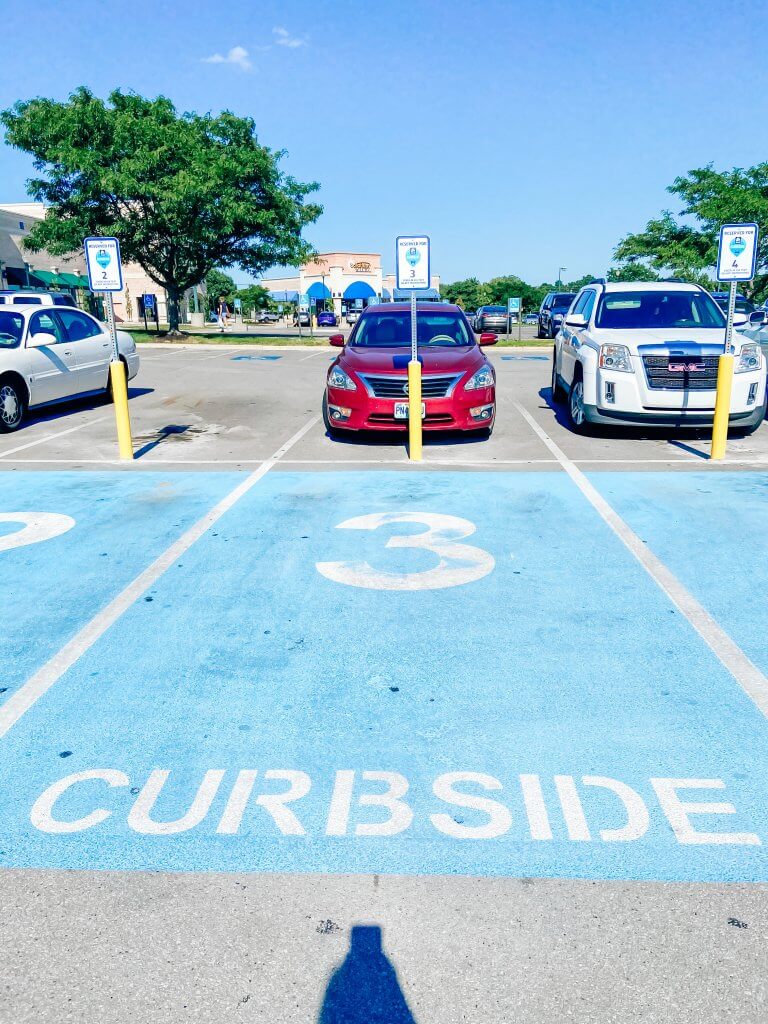 You will have provided your vehicle information during the ordering process so they know which car to bring the order to. However, they should also confirm your name when they bring out your grocery bags. The process is extremely quick and easy!
Head to my Instagram @wellnessforthewin for details on all of my ALDI hauls and favorite items to purchase from ALDI! Be sure to tag me on IG (as well as @aldiusa) in your ALDI hauls, too! 🙂
I hope this post helped explain the Curbside experience with ALDI so you feel confident placing your order online next time! Click here to start shopping and try curbside pickup for yourself in the near future!
Please let me know if you have any questions! Happy shopping!
Shanna