These Lasagna Roll-Ups are one of my husband's absolute favorite recipes! They are filled with ground chicken (or whatever protein you prefer), a mixture of ricotta and Greek yogurt, and veggies for a healthy, balanced meal. This is a little more labor intensive than most of the recipes I share, but I promise — these roll-ups are worth it!
Things will get a little messy, so grab your roomie or significant other, split up the duties and whip it up together! That makes cooking way more fun and will definitely speed up the process! Either way, it doesn't take too long to get a delicious result. Also, the leftovers are bomb. The best!
what's happening in my life
When I initially shared this recipe, I shared a little bit about what was going on at the time, and even though I'm updating it now, I don't want to remove this part, because it's so special! If you're just here for the recipe, feel free to skip ahead. ; )
As of 1/18/18, I am officially an AUNT to my sweet, little baby niece, Sierra Grace. She is absolutely perfect and it's insane how much I already love her. I can't imagine what it's going to be like to have one of my own someday, but for now I'm perfectly content with loving on her, spoiling her and handing her over to her parents when she has a poopy diaper. ; )
But in all seriousness, this has been a super exciting time for my family. Sierra and her momma (and her dad, my big brother) are all doing great, and I am so thankful for that!
In the same week, I also got a new car! I've driven nothing but a Ford Escape my whole life and I have zero regrets. My current one is just a 9 year upgrade from my first car. ; )
Okay, that's enough about me for now. Let's talk about this recipe.
why lasagna is a regular menu item in our household
Lasagna is one of Ethan's favorite foods. I never really ate lasagna growing up, because it just wasn't something that my mom made on a regular basis. Truth be told, my brother and I were super picky eaters when we were young, and wouldn't eat anything with red sauce in it. (Sorry, Mom.)
As I got older, I continued to avoid it due to the fact that I thought it wasn't "healthy" enough. However, once I started dating Ethan, he begged me to make some lasagna for us, so I decided to start hunting for a recipe that I felt good about.
Thankfully, I now have so much more freedom & flexibility in my food choices; however, nutrition is still very important to me. I love feeling satisfied and nourished after I eat, so I strive to make meals that accomplish that. This recipe fits the bill! It's packed with nutrients, but it is not lacking flavor whatsoever.
what ingredients do i need for lasagna roll-ups?
I try to use whole wheat lasagna noodles for this recipe whenever I can, but sometimes they can be tough to find! If you can only find white lasagna noodles in your grocery store, no biggie.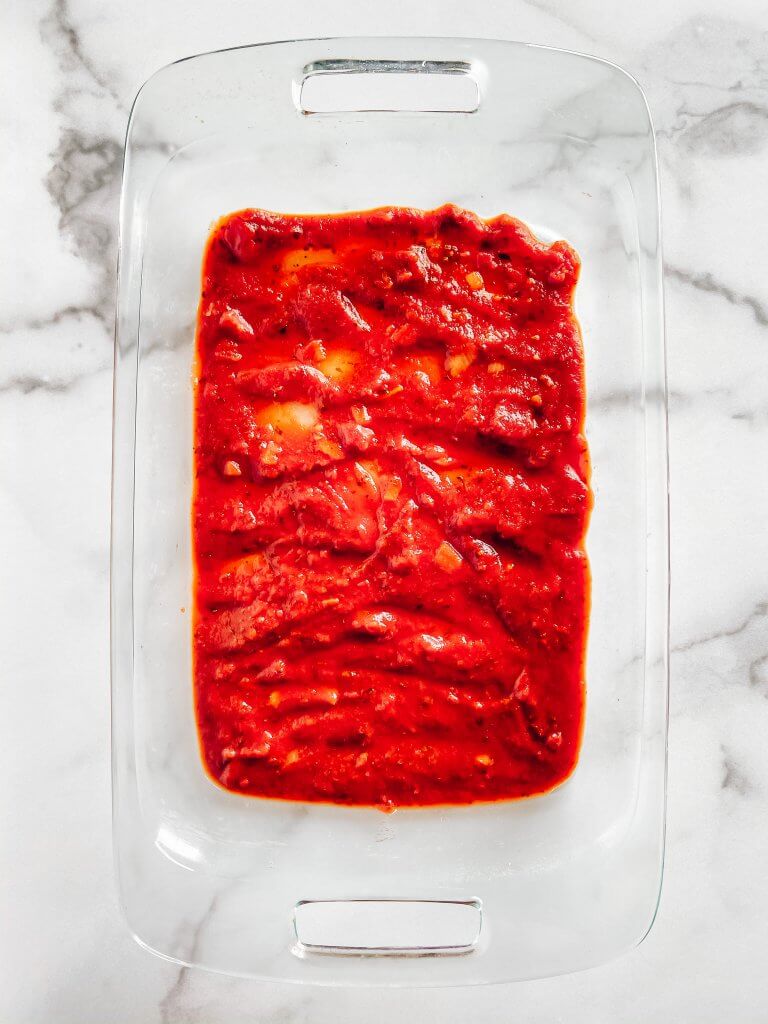 Other ingredients you need:
Ground chicken or ground turkey
Fresh or frozen spinach
White onion
Garlic
Ricotta cheese
Plain Greek yogurt
Parmesan cheese
Egg
Marinara sauce
Italian seasoning
Black pepper
Mozzarella cheese
With this combination, you've got a perfect combination of whole grain, protein from the ground meat & Greek yogurt, a variety of cheese because, hello, it's lasagna! In addition, you're getting several veggies from spinach & onions!
Both of these blend in very nicely and you barely notice them. If you have any picky eaters in your family, keep them in there! I bet they won't complain. 😉 Even though this is a healthified version of lasagna, Ethan absolutely loves it! I hope your family will too.
ingredient swaps for these lasagna roll-ups
There are several swaps and/or additions you can make to this recipe based on your personal preferences or whatever you have on hand!
Of course, you can always use white lasagna noodles if you can't find whole wheat noodles.
In addition, you can use whatever ground meat you like. I've made this recipe with both ground chicken and ground turkey, but you could also use ground beef, or even ground venison!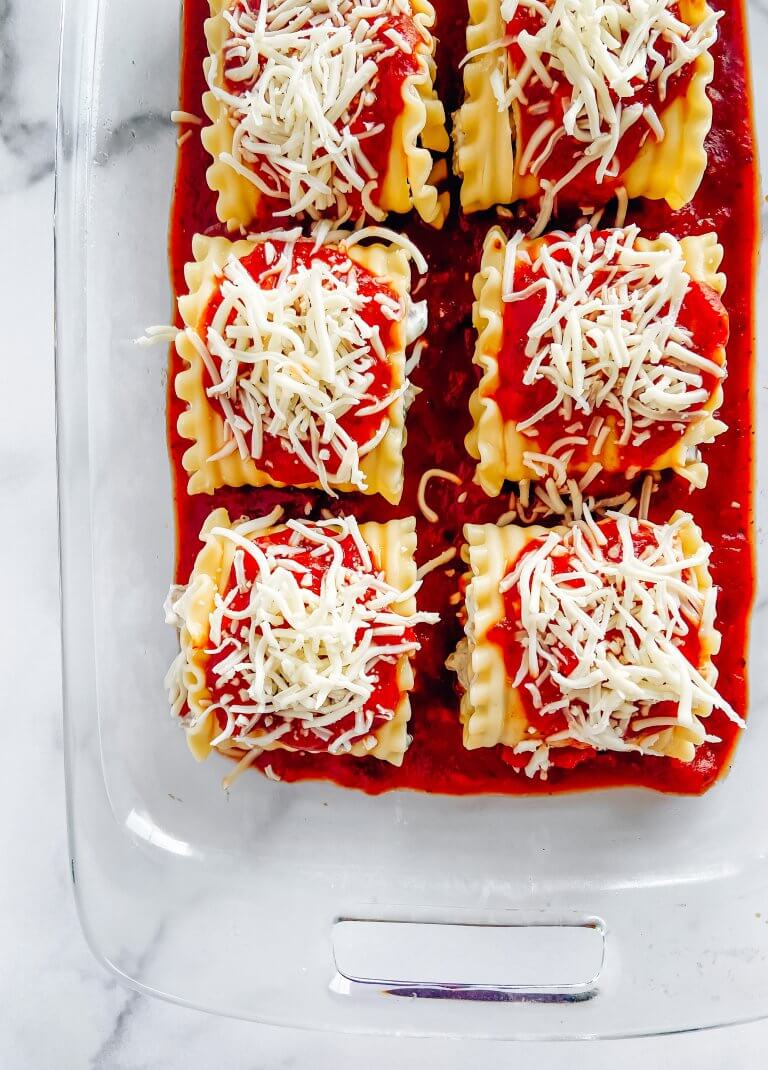 I have also used whipped cream cheese in place of the ricotta cheese before, and it turns out beautifully. If cream cheese is what you have on hand, use it!
Lastly, you could always add some extra veggies to the mix if you'd like, but you'd just have to do your best to squeeze it all in the noodles! : )
You could even get fancy and make your own homemade marinara sauce. I've never done this before, but if you like to do that, go for it! I just do my best to find a sauce that doesn't have any added sugars. ALDI has some great options!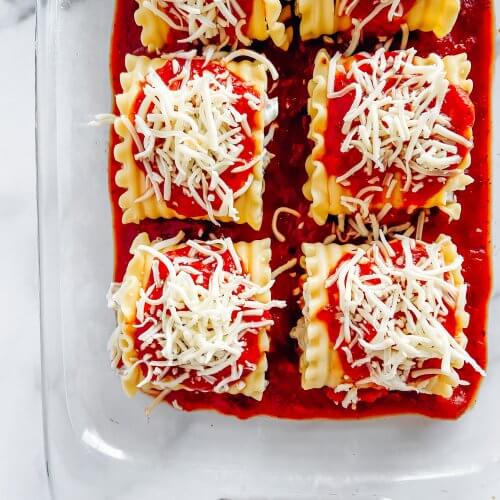 Lasagna Roll-Ups
These Lasagna Roll-Ups put a healthy spin on a traditional, Italian favorite; filled with lean protein, veggies and whole grains, they are sure to be a hit with the whole family!
Ingredients
10

lasagna noodles

whole wheat, cooked

1

lb

ground turkey

or ground chicken, cooked

1

cup

frozen chopped spinach

thawed and drained well

1

medium white onion

finely chopped

1

tsp

minced garlic

1

cup

ricotta cheese

6

oz

plain Greek yogurt

1/2

cup

Parmesan cheese

grated or shredded

1

egg

32

oz

marinara sauce

no sugar added

10

Tbsp

Mozzarella cheese

1/2

tsp

dried Italian seasoning

additional for topping

Black pepper to taste
Instructions
Cook ground turkey (or ground chicken) in a large skillet over medium heat. Drain any grease. Set aside.

Cook whole wheat lasagna noodles until tender. Drain, transfer noodles back to the pot and rinse with a small amount of cold water (so the noodles don't dry out). Set aside.

Preheat oven to 350 degrees Fahrenheit.

Cook the frozen spinach in a small skillet over medium heat until cooked through. Transfer to a fine mesh strainer and drain well. Press down using a paper towel to drain liquid as much as possible.

In the same pan, cook chopped onion and garlic for about 4-5 minutes.

Add the cooked spinach, onion, garlic, ricotta cheese, Greek yogurt, Parmesan cheese, Italian seasoning, black pepper, egg, and cooked chicken to a large bowl. Stir well to combine.

Pour about 1 cup of marinara sauce into the bottom of a 9×13 and spread out using a spatula. (Note: 6-8 roll-ups will fill the 9×13 pan; you will need an additional small pan for the 2-4 extra rolls. Pour about 1/2 cup of sauce on the bottom of smaller pan.)

Lay a large piece of parchment paper out on your counter and spread out a few lasagna noodles at a time, patting them dry on both sides using a paper towel. Spoon some of the chicken and cheese mixture (~1/3 cup) onto the noodles and spread evenly. Leave a little space on the ends so the filling doesn't ooze out the sides.

Roll the noodles up and place one at a time into your prepared pans, seam side down.

Once the rolls are in the pans, spoon 1-2 Tbsp of sauce on top of each one and top with about 1 Tbsp of shredded mozzarella cheese (or desired amount).

Cover pan(s) tightly with foil and place in oven for 35-40 minutes or until cheese is melted.

Serve hot. Store in airtight container in the refrigerator for up to 3 days.
Notes
Serving size varies. Ethan typically eats 2 roll-ups; I usually eat 1-1.5 roll-ups. Serve alongside a side salad or roasted vegetables. 
Nutrition
Calories:
436
kcal
Carbohydrates:
41
g
Protein:
37
g
Fat:
14
g
Saturated Fat:
8
g
Cholesterol:
100
mg
Sodium:
1013
mg
Potassium:
859
mg
Fiber:
4
g
Sugar:
8
g
Vitamin A:
1368
IU
Vitamin C:
12
mg
Calcium:
332
mg
Iron:
3
mg
As always, tag me in your creations on Instagram @wellnessforthewin if you try out this recipe, and pin this recipe on Pinterest so you can easily refer back to it!
Please consider leaving a rating and review if you try this recipe & love it! Or if you don't love it, I wanna know that too. ; )
Thank you!
Shanna