My Current Favorites: 1.30.19
Okay, I know I'm cutting it pretty close, but today I am sharing my second post with my current favorites this month!
Based on some of the memes I have seen on Instagram, I know I'm not alone in feeling like January has been absolutely ETERNAL. I know we were all pumped up about the New Year for a few weeks, and then the winter blues started to kick in. At least they did for me. However, February usually flies by since it's only 28 days long, and there are a few holidays sprinkled in that help push it along. WE CAN DO THIS, PEOPLE.
I'm trying my very best to focus on the positives and think about all of the fun things coming in the near and not-so-near future. I am traveling quite a bit this year between a few family trips and Bachelorette parties, and I can't wait to get away! My first trip isn't until mid-March though, and we are going to Colorado, which is even colder than here, so… I'll be dreaming of warmer places until further notice. 🙂
But no matter where I'm going, I absolutely love traveling. I think it's so fun to explore new places, try new foods and just break up my routine every once in a while. Traveling is definitely good for the soul. This year I'll be visiting several new-to-me places including Miami, Houston and Scottsdale! Who else has some fun trips planned for 2019?!
Okay, time for what you actually came for: my current faves.
Today you're getting a combination of makeup products, clothes, food, jewelry & faith. I've provided direct links to everything — just click on the name of the item! As always, let me know if you have questions about anything!
ENJOY!
I recently switched to this concealer and wanted to test it out for a while before I shared my thoughts with all of you. I used Tarte's Shape Tape for years before switching over to this Urban Decay Naked Concealer. I really did love Shape Tape because it provides amazing, full coverage, but my esthetician didn't think it was necessarily the best option for my acne-prone skin. I agree that the Urban Decay Concealer is lighter and more breathable, but it still provides great coverage too, without feeling heavy. If you're in the market for a new concealer, I would definitely recommend it! I know $29 seems like a lot, but it will last you several months.
2. NEW Balance the Superfood Shot Immunity Blend

It's that time of the year when we could ALL use a little immune boost. I know I could, *as I am just getting over a 2-week-long cold*. Balance the Superfood Shot (formerly known as Life Equals) just officially released their new Immunity Blend and I am in. love. It is primarily made of elderberry, which we all know has proven immune-boosting benefits, not to mention it tastes freaking delicious. This is my favorite of all three Balance Shot blends so far. However, I love the Foundation (original) Blend, too. I'm slowly coming around on the Turmeric Blend — I think turmeric is an acquired taste? 😉 I know it has its fair share of benefits too, so I drink it occasionally too!

All of the Balance Shots provide ½ your day's servings of fruits and veggies in a convenient, travel-friendly bottle. They are packed with real fruits and veggies and they taste great.

What I always like to mention about these shots + any other supplements is that they are NOT meant to serve as a replacement for whole fruits and vegetables in your diet. I am obviously a huge advocate of fitting more of those foods into your day in ways that you enjoy. They provide beneficial fiber that is great for blood sugar control, gut health, actually filling you up, plus they are delicious! However, I know that we are human and we aren't always perfect, and sometimes we could use a little boost of nutrition!

Use my discount code WELLNESSFORTHEWIN for 50% off subscriptions + free shipping. Subscriptions are flexible and you can cancel anytime if for some reason you don't like it! But it's definitely the best deal.

3. Fleece-Lined Pom Beanie – $19.99

Unfortunately, it's going to be freezing cold for a few more months, so we might as well look cute in the process. I got this beanie for Christmas and I'm in love with it. It's soft on the outside but it is EXTREMELY soft on the inside. It's fleece-lined and so, so warm. Not to mention, it's adorable. I love a good beanie with a ball on top!
Naturally, our puppy, Koda, found my hat, thought it was a toy and ripped the pom pom off, but thankfully, I have an angel of a mom who lives 10 minutes away and also knows how to sew. So my hat is back in action. 😉

4. Jesus Calling Daily Devotional — $8.49

Real talk: I struggle in the winter time with a little bit of seasonal depression and sometimes I forget how much it can help to lean on my faith. I have gotten in a really good habit of reading my daily devotional most days of the week and I really feel that it helps give me a better perspective and outlook on life. Whenever I share my daily devotional in my IG stories, I get tons of questions about which one it is, so I thought it was appropriate to share it here! I personally find it easier to consume and apply these one-page readings to my life than read the Bible (that kind of overwhelms me), so this has been perfect for me. Everyone is different, but if you're wanting to get started with daily readings, I definitely recommend checking this out. 🙂

5. DIFF Eyewear Sunglasses — Becky II — only $60 with my code!

I was recently gifted these shades from DIFF Eyewear and I gotta say… I LOVE THEM. At first I was worried they were too big for me, but they make me feel fun and sassy and I'm a big fan of both of those things. They have a ton of cute options on their site and they are very affordably priced compared to some other options like Ray Bans, etc. You can also use my discount code WELLNESS25 to save $25 on your purchase!

I also love DIFF Eyewear because for every pair of glasses they sell, they donate a pair to someone in need. I love companies that give back!! You can look good AND feel good about helping others at the same time. 🙂

Click here to check out the shades I have or browse their site!

6. Stasher Silicone Reusable Bags — price varies by size

I posted these on my stories the other day and HOLY COW — you guys were excited about them. I think a lot of us are making an effort to use less single-use plastic, which is amazing, and these have been a big help for me so far in that department. I got these bags for Christmas and have been trying to use them as much as possible! They are essentially Ziploc bags that you can use over and over and over. I love them for storing my chopped veggies in the fridge, or packing items in my lunch box. They are dishwasher-safe, freezer-friendly, you can even cook things inside of them! They come in tons of different shapes, sizes and colors.
You can use the code "stasherlife" to save 20% on their site!
7. My Everyday Jewelry Faves
When it comes to jewelry, I like to keep it very simple, especially on weekdays when I'm just going to work. I wear this dainty gold "S" necklace every. single. day. and same goes with these earrings. They are both very inexpensive and perfect for everyday wear.
This gold custom disc necklace is by PS Forty Six. I came across it thanks to my friend @hillarymichelleblog (go follow her!) posting it around the holidays, so I had to put it on my Christmas list! I think I've worn it every day since. You should also follow @psfortysix on IG because sometimes she shares special discount codes for her products, and she has tons of other adorable, simple jewelry like this on her page.
Click here for the necklace. — $35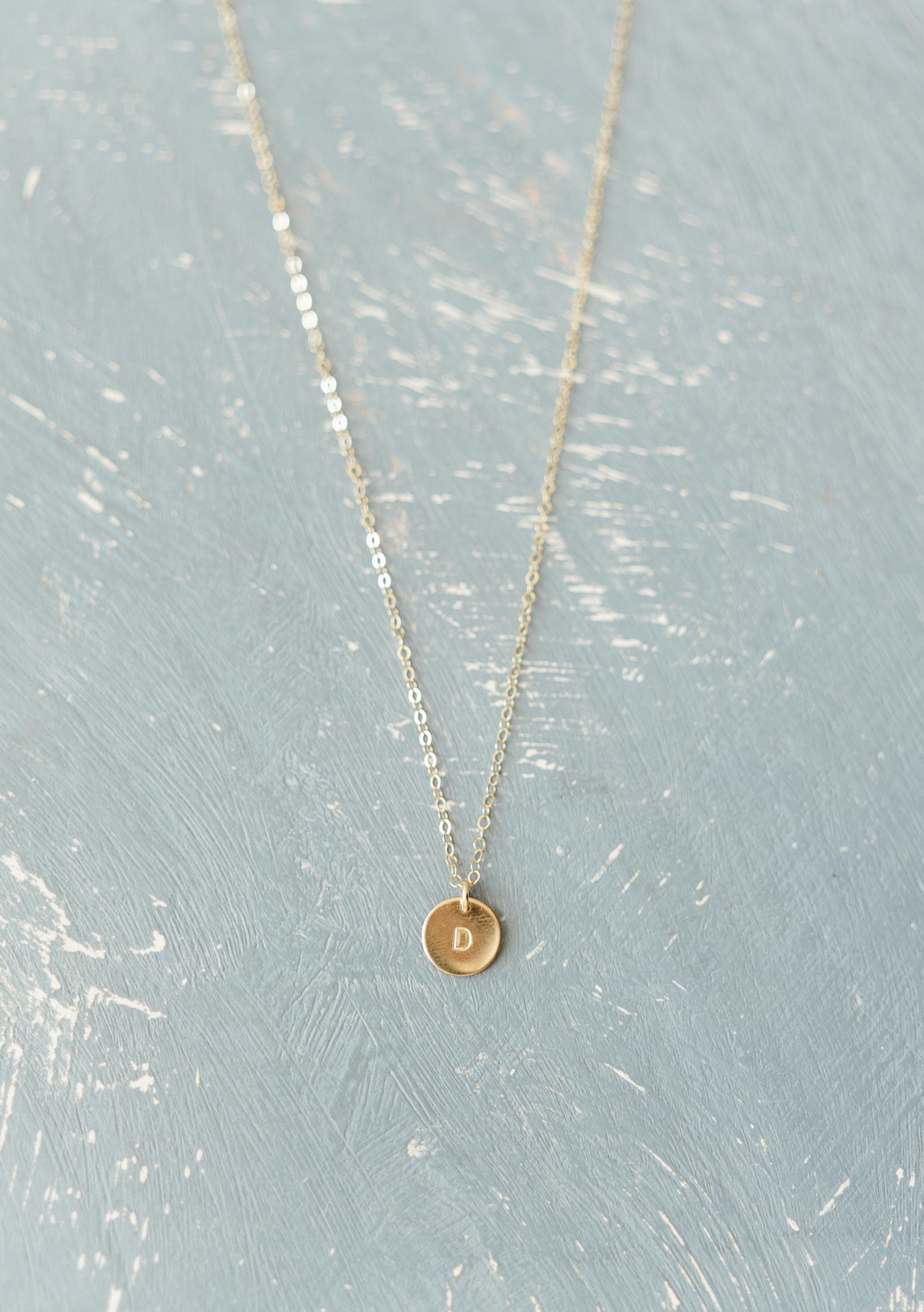 The earrings I wear every day are very similar to the ones pictured below. (My exact ones are sold out!) These come in silver, gold or "smoky" metal. Only $19 and won't turn your ears green. 😉
Send a direct message to my cousin, Mallory, on IG at @malpearson8412, let her know I sent you, and she will hook you up with free shipping!
Click here for the earrings. — $19
Currently Watching on Netflix:

Because everyone is always looking for a new show, right?
Okay, so Ethan and I recently watched "You" with Penn Badgley and we FLEW through it. It was very intense and suspenseful and intriguing, but not the happiest or most uplifting by any means. But Ethan and I love shows like this, hence why we have also flown through all of the other murder documentaries on Netflix. Definitely recommend watching "You" if you're into that kind of thing!

We are also slowly but surely watching Friends from the beginning, which makes my heart happy. Nothing will ever beat Friends. (Don't fight me on this.) I'm on a mission to get Ethan to my level, AKA, be able to quote every line of every single episode.
Most recently, we started a Netflix original show called "Friends From College", because we were in need of something a little more light-hearted after watching "You". It's pretty silly, but very entertaining. We have both enjoyed it so far! It makes me LOL, which is always a win, and there is some romance tied in, so it pleases both men and women if you and your honey need something to watch together. 🙂
Okay, that's all I have for now! Please let me know if you have any questions or if you try any of the things I mentioned in today's post! I'd love to hear your feedback. Have a great rest of your week! Stay warm out there!
Shanna
#WellnessForTheWin