It's no secret that I spend a lot of my time in the kitchen. I love to cook and bake and hello, I'm a food blogger. So of course I have some go-to kitchen tools that I use on a regular basis to make my life a little easier and the cooking process a little quicker. I thought I'd go ahead and share some of those with you all! I have mentioned a lot of these in my IG stories, but I thought it would be nice to have them all in one place for you to refer back to if you need it. I might also add to this in the future if I get any new favorites, and I'll be sure to let you know whenever it gets updated.
I have provided direct links to each item in case you want to shop it on the spot! Just click on the name of the item to buy.
Okay, let's get right to it!
I talk about this thing all the time on my Instagram stories because it's honestly the best. You can have a whole chopped onion (or several) in a matter of seconds. It's way less work than chopping the whole thing yourself, you won't be crying by the end, and the chopped onion looks uniform, which is nice if you're using it for a recipe and trying to impress people with your chopping skills. ; )

We use this egg cooker every weekend to make a big batch of hard-boiled eggs for breakfast throughout the work week. You can make soft, medium or hard eggs and it comes with extra equipment you can use to poach eggs or make omelets (which I have honestly never used). I personally used to hate hard-boiling eggs because I felt like I always screwed it up, but this thing makes it effortless. Someone did message me saying that they have the same one, and had issues with it leaking all over the counter. That happened to us a couple times too, but hasn't done it in a long time, so we may have just added too much water on those occasions? If you want to be safe, maybe lay a hand towel under it your first few times to make sure it doesn't leak! But like I said, lately we haven't had any problems!
I have been working on reducing single-use plastic, and these Stasher Bags have definitely been helping me with that! They come in a variety of colors and sizes, are dishwasher-safe, freezer-safe and you can even cook things in them! I love using these bags to store chopped veggies that I have prepped for the week, or packing random items in my lunch! I definitely recommend stocking up these babies! 
I absolutely love this 3-in-1 Avocado Slicer! It's so affordable and I use it ALL the time. You can cut the avocado open, remove the pit and slice it up using one handy tool. Better yet, it's not super sharp like a normal knife, so even your kiddos can use it if they are helping you out in the kitchen. Honestly, I don't use the "slicing" feature that often, but the pit remover is really great and doesn't make me feel like I'm going to accidentally cut my finger off with a huge knife.
We got two of these sets for our wedding and they are probably (read: definitely) our most used gift since I pack our breakfast and lunches for work every day.
Most of us have heard of the potential dangers of microwaving plastic Tupperware containers at this point. If you haven't already, I would encourage you to make the switch to glass Tupperware containers. They're great for storing leftovers and for work lunches because you can microwave them without worrying about transferring your food to a microwave-safe dish (just remove the lid to heat food). I especially love these Pyrex containers because they look neat and do a great job of keeping food fresh! They also stack very nicely in the cabinet and the color-coded lids make it easy to match the container to the lid. I think we all know the struggle of the dreaded Tupperware cabinet and lost lids. It might be even worse than losing socks to the dryer.
I think 90% of my cookware is Calphalon and I. Am. Obsessed. It's all such great quality, all non-stick, and a lot of their pieces are even dishwasher safe. I have multiple pots, pans and even my knife set is Calphalon. I highly recommend all of their stuff!
Essentially these are just scissors that live in the kitchen… but I use them all the time. Of course, mine are Calphalon too, because they were included in my knife set. The great thing about kitchen shears is that they are strong and durable and can even be used for cutting some meats and veggies, although I mostly use them to cut open bags of sweet potatoes and cut the ends of my weekly Trader Joe's flower bouquets. ; )
Obviously this knife set is an investment, and I am very grateful that we got it as a wedding gift too, but it is something that I could not live without. Having good knives is SO important if you spend any time at all in the kitchen. It's much safer to be using high quality, sharp knives than cheap, dull knives. If you are in the market for a new knife set, this one is amazing! Also, it looks really pretty on the counter, which is always a plus.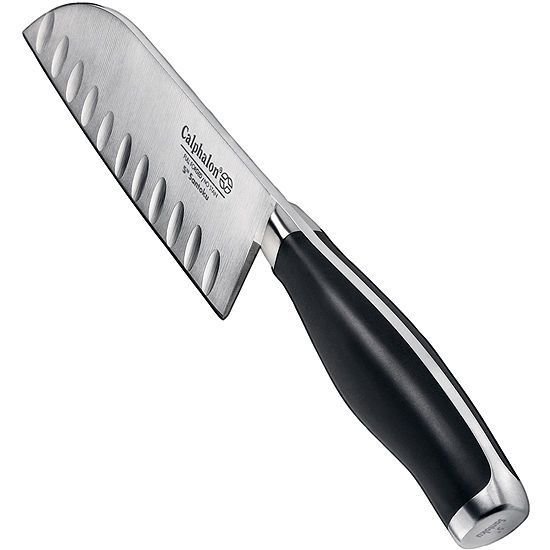 Someone recently messaged me and asked what kind of knife I use to chop up all of my veggies, because they really struggle to cut up sweet potatoes. Well, that wasn't surprising because they were using the same small knife for EVERYTHING!!! You have to bring out the big guns for things like sweet potatoes, spaghetti squash (any kind of squash, honestly) and so many other things! Having a big, sharp knife is absolutely a kitchen essential. If you don't want to bite the bullet on an expensive knife set, at least get yourself this knife! It will make chopping veggies so much easier. Trust me!
Ethan thought I was silly for wanting an electric can opener. I grew up in a house with one and I seriously suck at using the manual ones. I don't think this was a ridiculous request. Anyway, we got one. Another wedding gift. And guess what? I USE IT ALL THE TIME. We don't have a lot of counter space, but this doesn't take up much room and it's totally worth it. If you're still cranking open your cans with a manual can opener, do yourself a favor and buy this instead.
This is the spiralizer I use to make zoodles, and I love it! It's much more affordable than the pricy Kitchenaid versions (although those look amazing and I'd love to have one someday). This thing totally does the trick, it's easy to use and it doesn't take up too much space. It has three different attachments so you can make thin, thick or ribbon-cut spirals. I mostly use it for zucchini noodles, but I have also used yellow squash, and even sweet potatoes to make curly fries!

I thought I'd go ahead and throw a food photo in here since we all know what a waffle maker looks like. Sometimes you just need a good waffle for breakfast, am I right? This waffle maker is very compact, easy to use, and most importantly, waffles are the bomb. My favorite at the moment is any type of Kodiak Cakes mix! I have a new box of peanut butter mix that I'm dying to try. Stay tuned for full review. ; )
I didn't think I needed one of these, but then I saw my friend Aubrey of Kale Kouture making Kodiak Cakes pancake bites all the time, and I decided it was necessary. Go check out her recipe, buy a mini muffin tin, and thank me later.
I don't use this that often, but it's really nice to have around for certain things. I have used it to make oat flour by pulsing old-fashioned oats for various recipes, cauliflower florets to make my own cauliflower rice, making whipped cauliflower, zucchini chunks to shred zucchini for muffins, chopping up walnuts, etc. I love that this one is small because we are limited on storage space in our kitchen!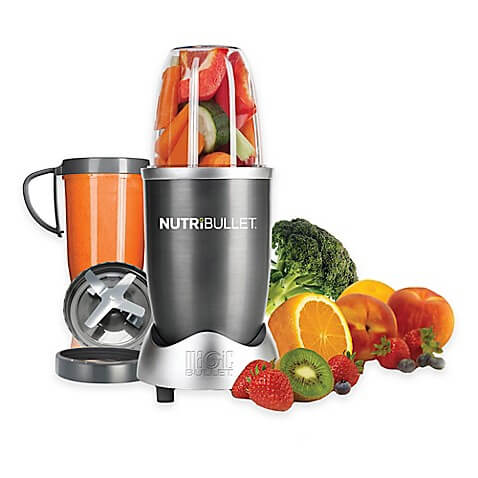 I have a huge Ninja blender that I use for things like protein pancakes or banana nut blender muffins, but it takes up quite a bit of space. This blender is really nice to have around for making smoothies because it's compact and you can take the cup to-go. There's a lot less clean up and all of the pieces are dishwasher safe. It also does a really great job of blending things up. We absolutely love our Magic Bullet!
I use these to store a variety of different foods and keep them fresh in my pantry, including pasta, homemade trail mix, rolled oats, whole wheat flour, etc. They also make your pantry look so much more organized than a bunch of random food containers!
This one might seem boring, because it is, but I seriously use my large jelly roll pan like it's my job. It's perfect for making massive quantities of roasted veggies all at once to be eaten all week long. : ) It's also the perfect size to make TWO veggie flatbreads at once, which y'all know I do weekly. If you are in the market for some new pans, look no further!
While we're on the topic, here's how I roast my veggies: toss in a few tablespoons of extra virgin olive oil or avocado oil – amount depends on how many veggies you're making – and toss in fresh cracked black pepper + garlic powder, roast at 400 F for 30-35 minutes, and toss halfway through! For sweet potatoes, I use the same kinds of oil, but just season them with cinnamon. For roasted carrot "fries" I will also add some paprika and chili powder (in addition to garlic powder & pepper).
If you eat quinoa on a regular basis, you need a fine mesh strainer. Quinoa has a natural coating that gives it a bitter taste if you don't rinse it before cooking. A lot of the boxed/bagged quinoa you'll find in stores may say "pre-rinsed" but not all of them do, and it never hurts to give it an extra rinse! I just measure out the amount I'm going to make, pour it into the strainer and give it a quick rinse under the faucet, then it's ready to go! This can obviously also double as a strainer for all kinds of other things, like fruits, veggies, pasta, you name it.
Okay, last one for now! I'm really only sharing this here because I showed my brother using it on my stories last weekend and tons of you messaged me asking about it! Haha – to be honest, I'm not a big fan of eating fresh pineapple (it's a texture thing) but I do love it grilled and dried from Trader Joe's! If you are a pineapple lover, this will save you loads of time and effort cutting them up!
I hope that gives you some good ideas of tools & accessories that might make cooking a little easier or your kitchen a little bit more organized. This would be especially helpful for any engaged couples who are currently registering for their wedding, so if you know of any, tell them to come check out this post! And please let me know what you think if you buy any of these items! : )
Happy cooking!
Shanna
#WellnessForTheWin #KitchenEssentials