Baby boy number 2 will be here before we know it, and I wanted to share the details of his nursery if you're interested! If you want to check out my blog post on Rhett's nursery for a little bit of a different vibe, click here! Keep reading for some Boho Baby Boy Room Inspiration, from an amateur decorator! ; )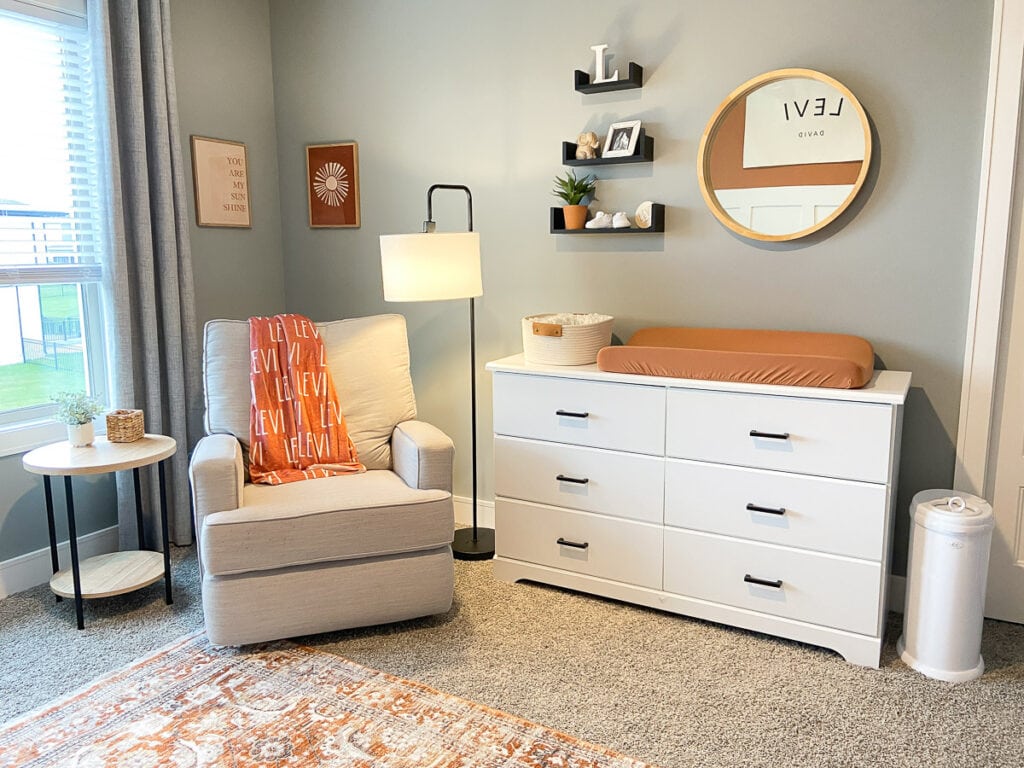 I am not a natural whatsoever when it comes to home decor, so I got a lot of my inspiration from Pinterest, fellow mamas on Instagram and honestly just searching through Etsy and other random websites to piece things together. I didn't have a specific "theme" in mind for this nursery, but just tried to make everything fairly cohesive in terms of the colors and vibes.
I'm calling it "boho" based on some similar photos I've seen on Pinterest, but if I'm being totally honest, I'm not even sure what qualifies as boho LOL.
Regardless, I'm super happy with how everything came together and we were able to find lots of great, affordable pieces along the way. Because if you're a mama, you know that ALL the things can add up so quickly!
With that said – check out my baby registry must-haves post. I really narrowed it down to things you *need* and will actually use, and again, I really try to go for budget-friendly options whenever possible!
If you're interested, I also created a "last minute baby 2 items" list on Amazon with all of the items I grabbed super late in my pregnancy in preparation for this second babe to arrive. We have most of what we need, but there were a few extras I wanted and of course had to stock up on postpartum recovery stuff for myself. Click here to see that list!
Okay, let's dive into Levi's room details!
wall color & accent wall
The orange color we have on the wall is Sherwin Williams Spiced Cider and we LOVE it. Honestly, pictures don't do it justice – it looks a lot prettier in person! But I just love that it's something a little different from your typical blue / green that you see in boy nurseries (and we totally did green in Rhett's, and loved it, too!).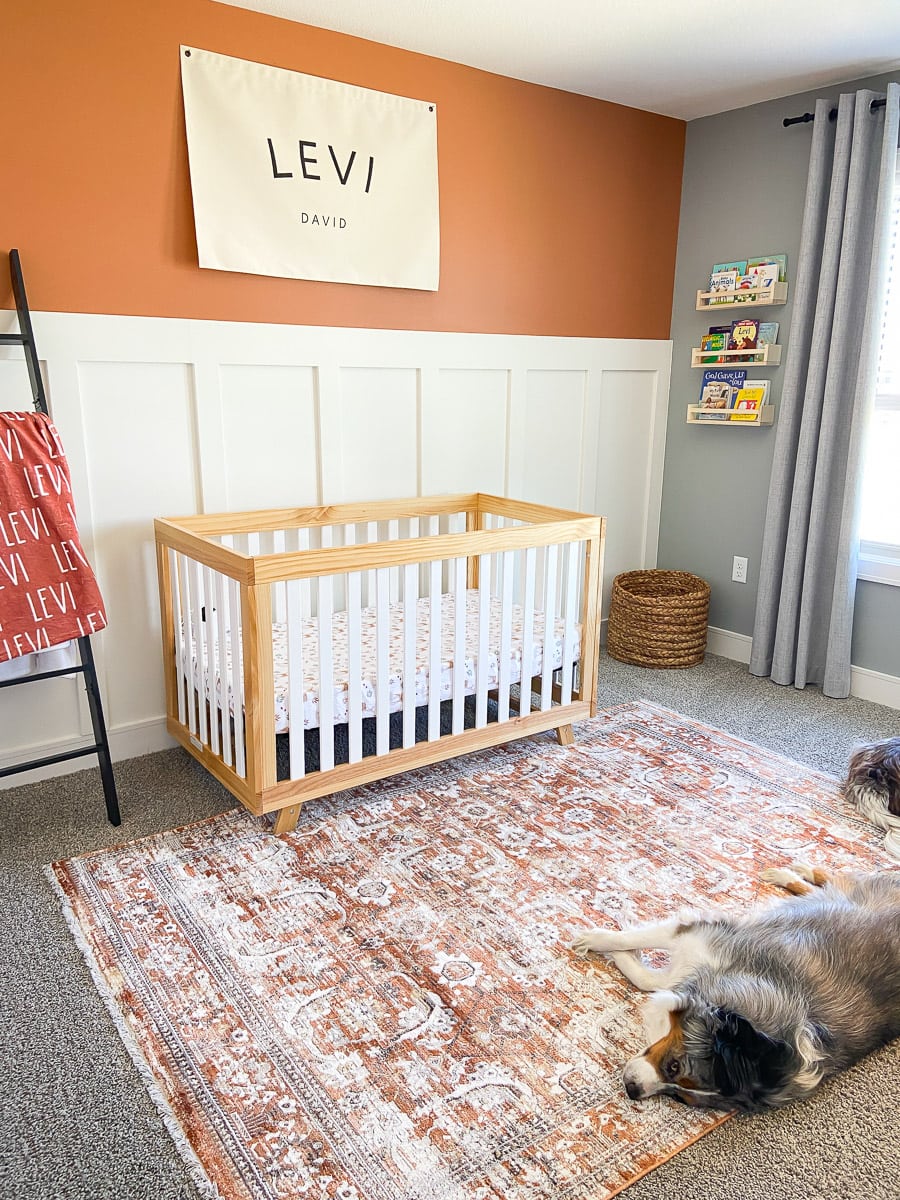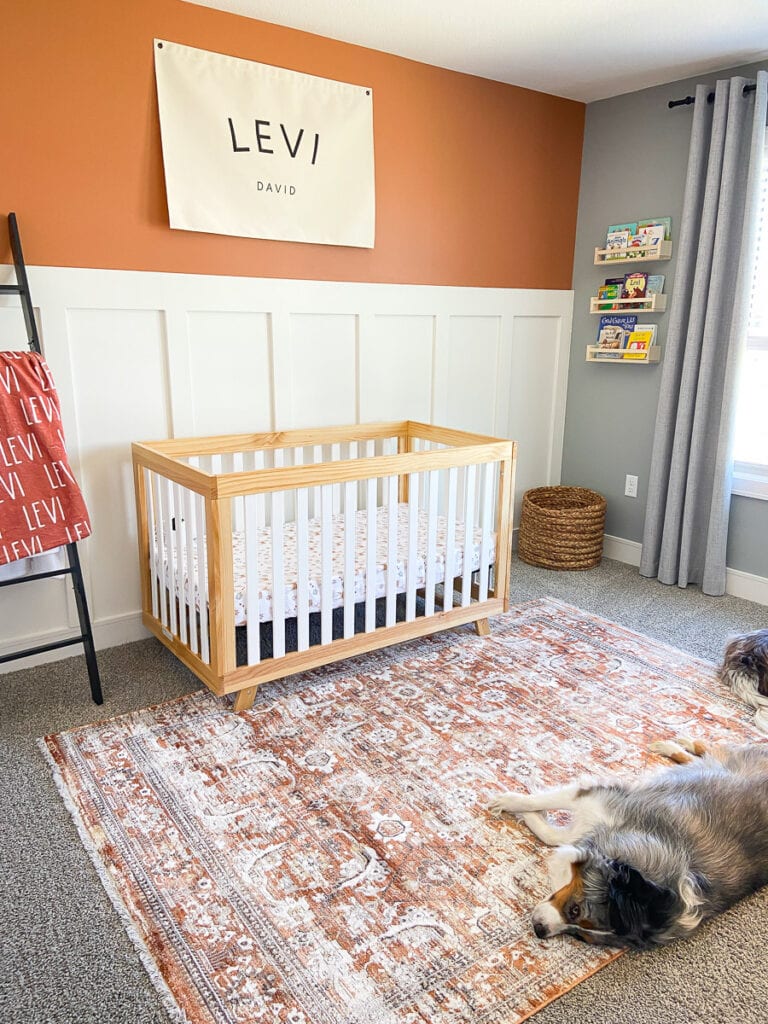 Ethan did the accent wall himself! He is famous for just finding tutorials on YouTube, Pinterest and/or Instagram and then whipping it out pretty quickly. I'm so thankful he is so handy!!! With that said, unfortunately I do not have any tips for you on how to do it besides "Google it", lol.
However, he did do an accent wall in Rhett's room and I created a blog post on that one if you want some more ideas and guidance! Click the link below to check that out.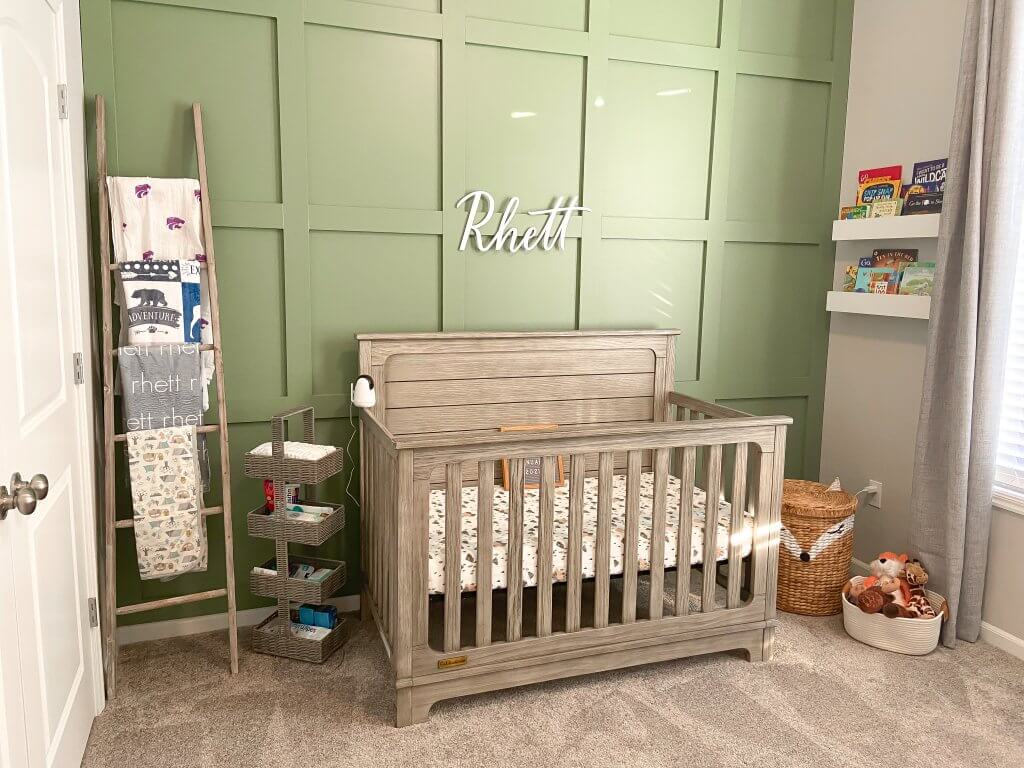 crib
Here is the crib we went with this time around! Ethan said this was not bad to assemble at all and that it feels like great quality, which is good to hear! It's also fairly reasonably priced compared to some other options out there.
side table
I am SO happy with this side table for so many reasons. 1) It was SO quick and easy to assemble – I was able to do it myself! Haha. 2) It's so freaking cheap – like $30. 3) It's great quality, especially for the price!!! And I love the look of it. I was torn between something that was wood, or an all black table, so this option was perfect because it has both! But it comes in several different colors, so definitely check them all out. Highly recommend!
I've had lots of people tell me they have this in their bedroom, living room, nursery, whatever, and it has been super durable and great.
crib mattress
This is the crib mattress we have used for Rhett's whole life and I ordered it for baby boy, too. It is GREENGUARD Gold Certified, machine washable, has a water-resistant and removable cover, and we have had zero issues or concerns with it.
It is also less than $100 (often goes on sale for around $80), unlike some others on the market that are upwards of $300. I completely understand the fear of having something happen to your baby while they are asleep, especially once they start sleeping on their bellies, but this one has worked great for us. Ultimately you have to do what you feel comfortable with, but this has been a more budget-friendly option that we have felt great about using.
crib sheets
There are tons of great options out there when it comes to crib sheets, and we are not necessarily partial to one particular brand. But here are a few that we've gotten and really loved!
Caden Lane Sheets — you can use my discount code WELLNESSFORTHEWIN for 20% off Caden Lane products through the end of May 2023!
I partnered up with them and they gifted me these adorable dino sheets (for Rhett) and I got the deer for baby bro's room! They are SUPER soft and cozy, and so cute!
Also, the personalized orange Levi name blanket we have is from them, too! Highly recommend. This would make an amazing gift for a mama friend, too!
Caden Lane Crib Sheets Linked Here!
Amazon muslin sheets:
I got these from Amazon and I was amazed at how soft they were!!! When I posted about them I got lots of DMs from fellow mamas who swear by this brand and love their stuff, so I'm also eyeing their changing pad covers and bassinet sheets! They have amazing reviews, for good reason!
recliner
We took the recliner/glider that we had in Rhett's room for baby's room and put another recliner we had in Rhett's room in order to save money, because recliners like this aren't cheap!
Sadly the one that we have is no longer available, but we originally found it at Buy Buy Baby and have been so happy with it! They have a bunch of options in stores that you can sit in and try and I think that is the way to go if you have the ability to go into a store and test some out. You will spend A LOT of time in that chair so you definitely want it to be comfortable!
Ours rocks, swivels and reclines and I love having all of those features so that is what I would personally recommend, but to each their own!
The other blue recliner (now in Rhett's room) we have is from HomeGoods several years ago, so I can't link it, but here is a super similar one from Target! It comes in lots of colors and is super cute. I don't necessarily know that I would use it for a nursery (for a young baby anyway), because again, I love being able to rock and swivel. I thought it would be fine to put in Rhett's room, but since we swapped this one out with his, he has already asked me to rock him in the chair a few times and I'm super sad that I can't… : ( Part of me wonders if he is just a little sad/jealous because he knows his chair has been moved to baby bro's room, haha.
SIMILAR RECLINER LINKED – goes on sale often!
curtains / curtain rod
We got these Wayfair curtains for Rhett's nursery back in 2020 and loved them, so we ordered more for this baby's nursery! In Rhett's old room, we actually had 3 panels (note: they are sold individually, not in pairs), and in his room at our new house, he really only needs two, so we moved one to the new nursery and ordered one more. My mom had to hem them because our ceilings were way taller in the old house (on the first floor where Rhett's nursery was, anyway), but now they are perfect!
We really love these curtains – they look really nice, they're great quality, AND the blackout is legit. They do a great job of blocking out light for daytime naps.
We have black fixtures / door knobs, etc. all over our new house, so we went with black curtain rods as well. These are the ones we bought for all the bedrooms, and they are great!
CURTAIN RODS:
diaper pail
This is not decor by any means, but this is the diaper pail we got! We have the same one for Rhett and it has worked great for us, and it's not an eye sore. I grabbed white for Levi's room and Rhett has the gray. It does a great job of holding the smell inside, but when you open it up to throw a dirty diaper in, it inevitably smells awful, but only temporarily LOL.
Another reason a lot of people love this diaper pail is because you can really use any trash bags inside it – you don't have to purchase their specific bags. But with that said, we have just purchased a large box of their bags and the big box has lasted us forever and they aren't very expensive at all. Both are linked below for you!
changing pad / cover
I actually got this changing pad as a hand-me-down from my cousin when I was pregnant with Rhett, but here is a super similar one from Amazon! I personally don't think you need anything fancy for this.
There are lots of really expensive ones out there these days that have scales in them, and I do understand the appeal of the ones that are a slick material that you can wipe down. BUT, with that said, we just put a cute fabric cover on the pad, and then place a portable diaper changing station on top of it that we can wipe down if (when) leaks happen.
That worked well for us with Rhett, and that's our plan with this babe, too! It may not look as *cute*, but if you're a parent, you will quickly find that function & practicality >>> cuteness any day, haha.
Highly recommend having a portable diaper changing station like this, whether you plan to use it on top of the changing pad, on-the-go or in other areas of the house. Super handy to have!
I also snagged this cute and machine-washable option to have in our room for overnight diaper changes on our bed while baby boy is still sleeping in his bassinet by my bedside.
Caden Lane Changing Pad Cover — use code WELLNESSFORTHEWIN for 20% off through end of May 2023! LINKED HERE
lamp
Here is the lamp we got for baby bro's room! We got black and the lamp shade does tilt if you want it to, which might come in handy sometimes while feeding and/or reading books in the recliner!
book shelves
I debated several different options for wall shelves this time around, but ultimately ended up going with these $7 SPICE RACKS from IKEA that so many of my followers recommended. They are extremely affordable and so many people said they've had them on their kids' walls for YEARS and they have held up great, so I was sold!
They definitely feel cheap, but they look cute on the wall and seem to be sturdy!! And they were extremely easy to put together.
"once upon a time" wall sign
I didn't end up getting this wall sign since I grabbed the above shelves and wanted three of them, but if we had a different set up in our nursery and bigger wall space for shelves, I may have snagged it because I think it's super cute! So I wanted to share it if you were looking for something similar or just wanted some additional inspo. : )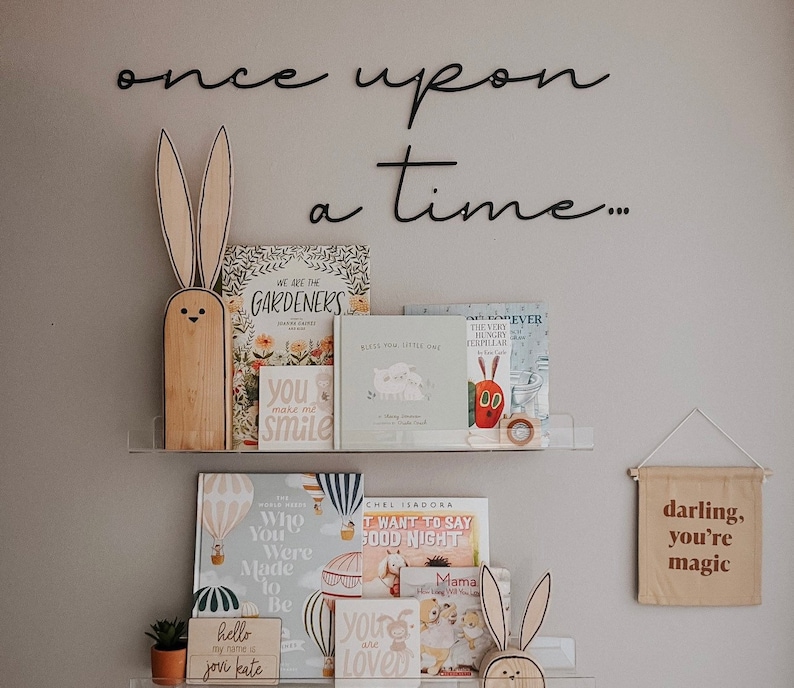 I did grab this "bub club" sign from Hobby Lobby, too because I thought it was too cute. We call Rhett "bubba / bub" all the time, so it felt fitting to welcome Levi into the club. ; )
floor basket
This rope basket comes in lots of cute colors that would match a lot of different nurseries, and it would be perfect for storing stuffed animals, miscellaneous toys, etc. and wouldn't hurt baby if they happen to fall on top of it when they become mobile. : ) I may still grab this, but as of now I'm just using a large wicker basket that we already had!
faux olive tree / basket
I believe I found the link to this faux tree from @katieannemach who just had her first baby girl in March. It's super cute and pretty reasonably priced for a nice fake tree! I haven't grabbed this *yet*, and may actually end up getting it for our primary bedroom instead, but I think it's so cute!
Here's a cute basket that I thought would go well with it!
blanket ladder
We have a very similar blanket ladder in Rhett's room and it's a cute and easy piece of decor that is also functional! Especially with Rhett, I got tons of blankets as gifts at my showers, and it's also a great place to mount the baby monitor next to the crib, haha.
I found Rhett's blanket ladder at Hobby Lobby and it was pretty inexpensive, so also check there, especially if you want a rustic/wooden one – they usually have several like that! For Levi's room, I just wanted to tie in more of the black details!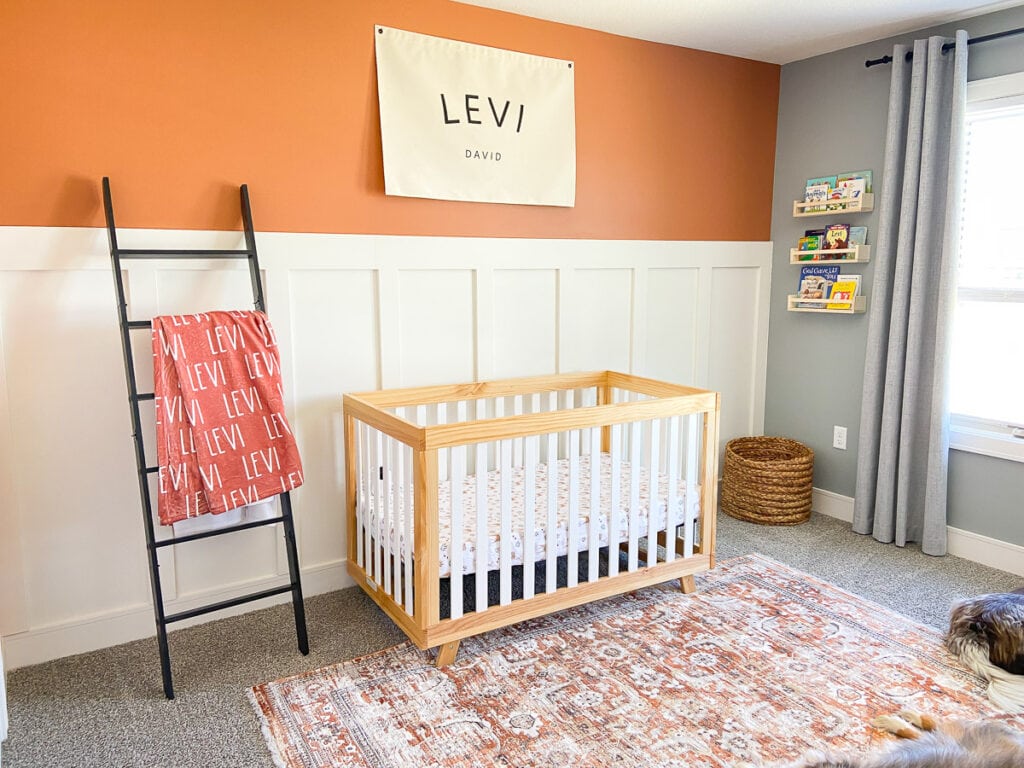 baby monitor
Speaking of monitors, here is the one we have used throughout Rhett's life, and we also just snagged the double monitor to use when baby boy arrives!
This one does NOT have WiFi, which is one of the reasons I went with it. There are pros & cons to that — I didn't want to have to rely on WiFi to have a connection, and I've also heard that people can hack into it and see your screen, which is probably not super common, but as a first time expecting mom, that possibility freaked me out so I opted against WiFi, haha.
With that said, the range on this monitor is not amazing. Rhett's room is far away from our patio in our new house, for example, and sometimes has a hard time reaching, so we are considering getting a WiFi option as well. TBD.
Overall though, we have been really happy with this monitor and the clear picture is EVERYTHING. I loved that I could see him SO well, especially as a little baby, and easily watch him breathe. : ) #IYKYK
area rug
I got this area rug in the 5×7 size, partly because area rugs are freaking pricy!!! It was on sale when I got it though and it looks like it is on sale often. I did some polls in my IG stories about rugs on top of carpet, and a lot of people agreed that this style is IN, and people suggested fabric tape and/or drilling the corners into the ground to prevent it from coming up on the edges. @philip_or_flop has a good tutorial on that in his story highlights, plus tons of other helpful DIY content.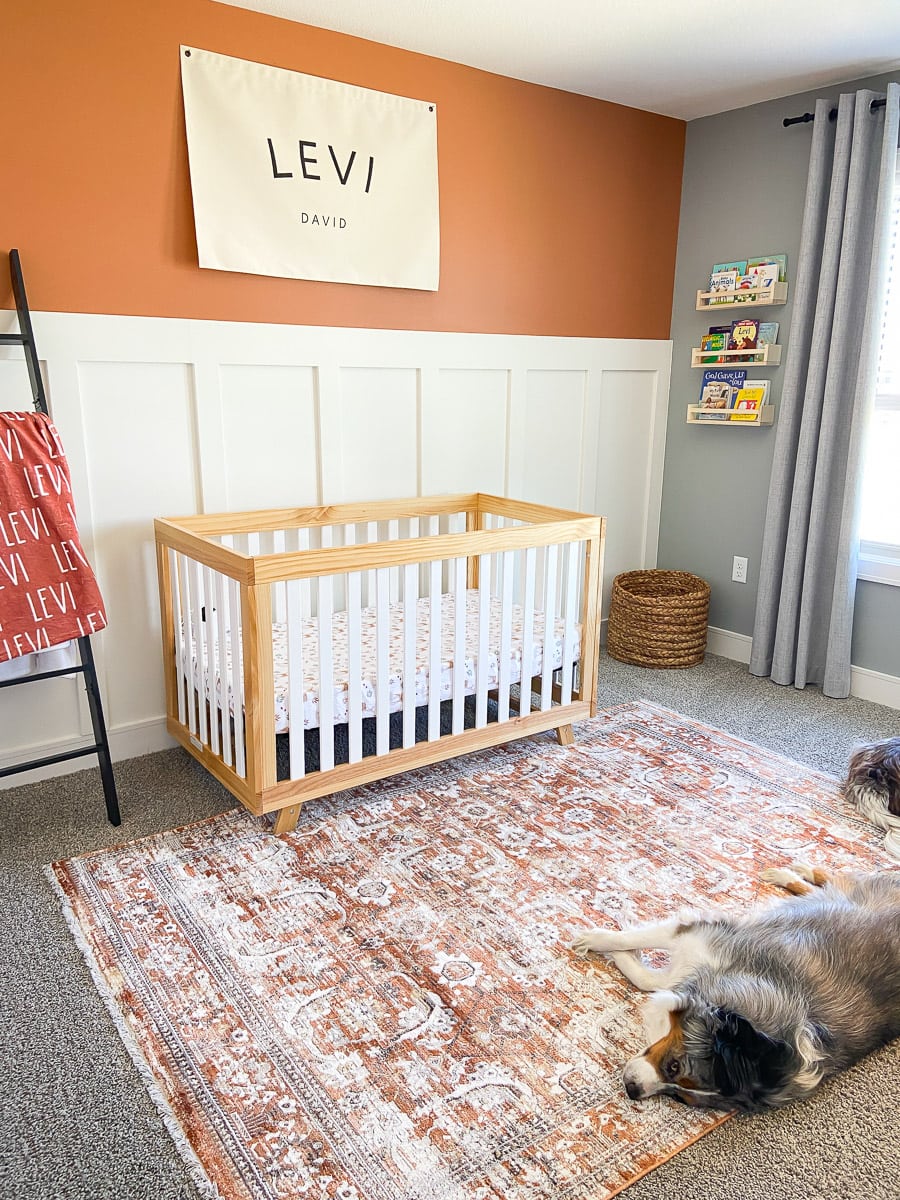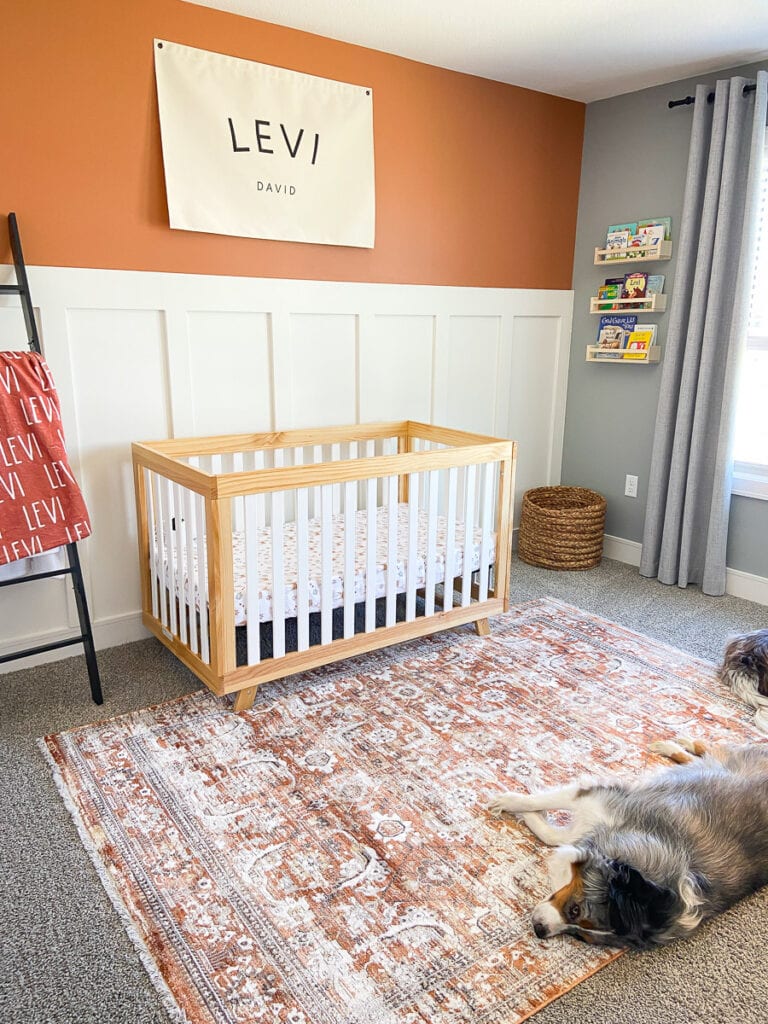 sunshine wall art
These prints were super cheap on Etsy because it's just a digital download. I printed them out at Walgreens! The size is 11×14, but I honestly was wishing they were bigger. I thought about getting bigger frames with an 11×14 matte to make a bigger statement on that wall, but it probably won't happen at this point. 😉 Originally, I ordered 12×16 frames and liked that size but I couldn't find anywhere that offered prints in those dimensions.
wall frames
Frames I got from Amazon:
name flag/sign
I was debating a few different options for name signs, and ultimately decided to go with this flag one and LOVE it! It's different than the somewhat traditional wooden name signs that you see a lot, and I had several fellow mamas message me saying this is something that grows well with your kids, which is always good to hear! Especially as a second-time mom, I feel like you think about that a little bit more than the first time around, haha. Now that we know they don't stay babies forever!!!
We went with the largest size, and if you sign up for their email list, you can also get a discount! Swipe through the product photos for the details on that.
wall shelves & decor
Here's a link to the floating shelves we got for above the dresser. When I ordered them, I totally thought they were black, but they are actually a very dark wood. We ended up having a friend paint them black for us and love how they turned out!
Set of 3 floating shelves for under $20
Most of the decor on these shelves came from Hobby Lobby!! I love this little elephant, and loved the idea of framing one of his ultrasound pics, too! That is something we can also swap out with a different photo as he gets older, and same with the other decor, if he wishes. 🙂
The tiny little Nike shoes were actually a gift to Rhett when he was a young babe.
Here's a link to the personalized wooden name sign!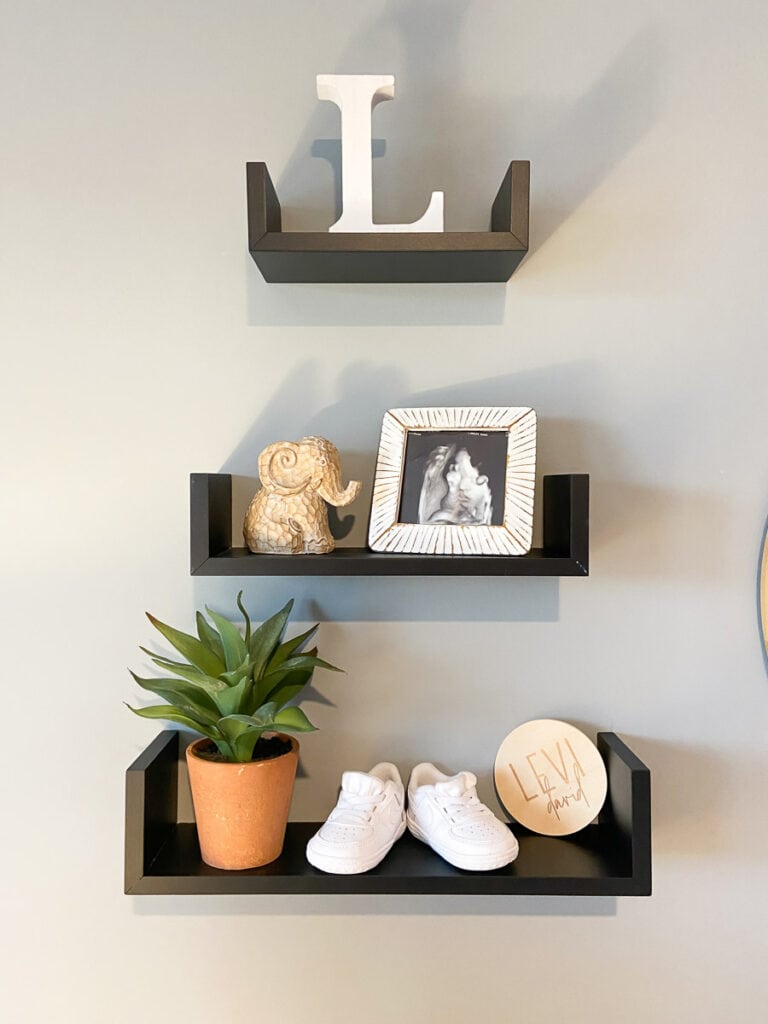 round mirror
I am so pleased with the quality of this mirror! It looks so nice and feels very solid. We got the 22″ diameter.
basket / diaper caddy
Here's a link to this coiled rope basket we have on top of the dresser for things like diapers, wipes, etc. They have tons of different sizes available!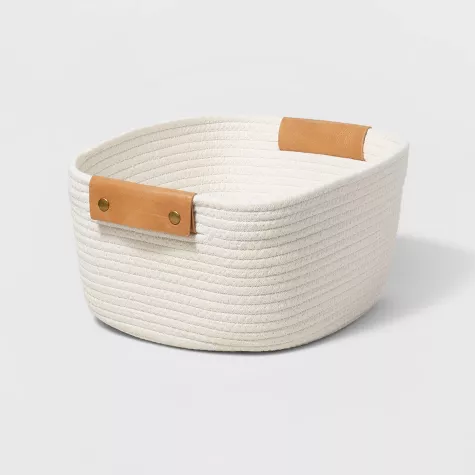 Here is also a link to the diaper caddy I'm getting for our bedroom for overnight diaper changes when he's still sleeping in the bassinet!
dresser
I am posting this dresser here WITH A FEW DISCLAIMERS.
First: Ethan said assembling this was terrible. There were a million pieces and it took quite a while, haha. He's super handy, so you know it's bad if he complained about it.
Second: Ethan said some of the pieces were flimsy and that this is not the best quality. He drilled a little hole through one of the bottom pieces and he felt like it was almost inevitable while assembling, and again, he is a very handy guy, haha.
Just a few things to be aware of! I will link it for you, BUT not necessarily saying it's *the best* option out there. I got it because I liked the look of it pretty well and it was reasonably priced, but sometimes you get what you pay for…
In addition, we swapped out the handles with black ones from Lowe's or Home Depot to tie in the black details again and I love how cohesive they are with the floating shelves above!!!
With that said, a ton of people have raved about this dresser from IKEA, so I will link it as well if you want to go with one that seems to be better quality and that people love!
other baby & mama-related posts you might find helpful:
I hope this is helpful if you're currently decorating a nursery for your little one on the way and looking for inspiration! Please let me know if you have any questions or if I missed anything!
Thanks so much for reading : )
Shanna