My Current Favorites: 1.9.19
How is everyone doing now that we are officially back to reality? This will be my first full week of work since before Christmas, so I'm sure I will be struggling by Friday, but we got this! On top of that, I feel like I'm in the beginning stages of a cold, so fingers crossed I can fight it off before it turns into a full-blown illness. I usually struggle with that, but maybe 2019 is the year my immune system will decide to be more resilient. 😉
Back when I started my blog I used to do posts like this on a fairly regular basis. I called them, "These Are A Few Of My Favorite Things". I just decided that I'm bringing them back. I'm always coming across new things that I love and I typically share them on IG stories, but unfortunately, those expire after 24 hours, and if you missed it, you missed it! TOO BAD, SO SAD. Not anymore! Hopefully these posts will be a helpful way for me to share things that I really love and you can refer back to them as often as you'd like!
I'm thinking I will do these 1-2 times a month, depending on how much stuff I am loving at the time, slash how crazy busy I am. ; ) I am going to make it low pressure on myself by sharing only five to ten items each time! That way it's not overwhelming for you guys either. Win-win!
These posts will include a little bit of everything. Food, clothing, beauty or hair products, kitchen tools, home decor, or anything else that I think is worthy of sharing with y'all. : ) I thought about trying to stick with one theme per post — for example, sharing 5 food-related things at once, or 5 beauty-related things, etc. — but again, in an effort to keep it low pressure, I'm just going to do whatever is relevant at the time. So you're getting a variety today!
Let's get started with My Current Favorites: Part I!
FYI: I have provided a direct link on the name of each item listed below! (written in pink)
The. Best. Jeans. Ever. – $49.95 (included in BOGO 50% off sale! These go on sale often.)
It just felt right to include these in my first post about my favorite things. I have talked about these jeans approximately 150 times, but it never fails that someone will message me and ask, "What are those amazing jeans you always talk about again?" LOL. (If you were one of those people, don't feel bad! I am more than happy to share them!) So I'm just gonna leave them here. As a woman, it is HARD to find jeans that you just love and feel AMAZING in. Am I right? This is hands-down my favorite pair of jeans I have ever owned, and I know tons of you have purchased them and love them just as much. I know people with different body types than mine have them and love them, too. They are stretchy, very high-waisted, incredibly comfortable, flattering and affordable. I cannot recommend them enough.
2. Buxom Plumping Lip Gloss — $21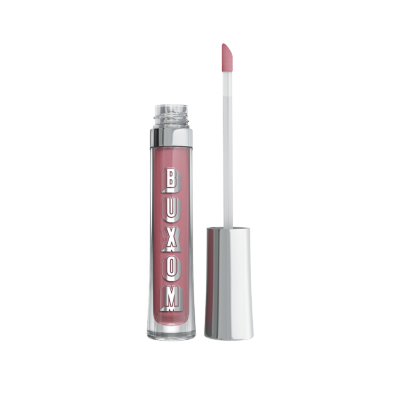 I got this lip gloss as a stocking stuffer for Christmas and I have quickly fallen in love with it. It was recommended by my BFF Shelby Ditch on her IG stories, and she was right – it's aaamazing! They have tons of beautiful colors to choose from; I got the color "Sophia", which is a pretty mauve shade. If you're in the market for some new lip gloss — and want some plumping action — definitely give this brand a try! Some of Shelby's favorites are: Dolly, Jessica, Hot Toddy, and Blushing Margarita. She also loves Creamsicle for summer!
3. SkinCeuticals Foaming Face Wash – $34
I started using this face wash fairly recently and love it. I am a big fan of foaming cleansers vs. cream or gel cleansers. For some reason I don't feel like I'm really getting clean unless there are suds, and lots of them. SkinCeuticals is a high quality skincare brand, and this face wash has been great for my skin. It also does a good job of removing makeup, although I also use my Makeup Eraser to remove any additional makeup afterwards (especially eye makeup). I have sensitive skin and have tolerated this face wash very well, and it doesn't dry me out. It also lasts several months, so I really think it's worth the money. Investing in better quality products is one of the best things you can do for your skin. Promise! Click here for my Current Skincare Routine post. The picture below is what my skin looked like during the summer of 2016. I've come a long way since then!


We recently snagged this baby on Amazon for only $40 to replace our old bedding that we had for like, five years. It was a set from Groupon that lasted a surprisingly long time considering the fact that we have wild fur babies that are allowed on the furniture. We decided it was officially time to move on once it got a hole or two in it, but we still didn't want to invest in anything too pricey because those crazy dogs are still very much a thing. ; ) We have been really happy with this quilt so far and as you can see, Harley & Koda also approve. We have a queen bed and ordered the full/queen size and it is plenty big. In fact, it hangs down pretty far on both sides. It is not a heavy quilt; it is fairly lightweight, which Ethan and I happen to like. The quality is great for the price & I think it looks nice, too! There are several other color options available, but we got the Quartrefoil Gray for reference.
5. Girl, Wash Your Face by Rachel Hollis
I got this book for Christmas and I was so excited, because I really want to read more in 2019. I used to read all the time and loved it, but I have gotten "too busy", AKA out of the habit of setting aside time to read. I will be the first to admit that I could be doing a lot less scrolling and a lot more reading books instead, and it would be very good for my mental health. I'm proud to say that so far, I am doing pretty well with this! I've already read a good chunk of the book and I am really enjoying it. It is inspiring, easy to read and just makes you think about life & put things into perspective. Definitely recommend checking it out if you're looking for an easy, feel-good read! I need to figure out what is going to be next on my list once I finish it! Send me any and all of your recs! Please and thank you. 🙂
That is all I have for this episode of My Current Favorites. I hope this was helpful! Please send any feedback you have my way. I'm always open to your suggestions, because you all are the reason I do this! : )
XOXO,
Shanna