Simple Skincare Routine and Products
This post is about my simple skincare routine and products I love, as well as some history about my skincare journey.
Skincare has become significantly more important to me over the past few years. During the summer/fall of 2016, I was going through a really rough time with my skin. It all started on the 4th of July. I had flare-ups over the next several months before I finally discovered that I had developed an allergy to an ingredient that was present in a ton of my everyday products.
If you want to learn more about what I went through, click here for the intro to my skin issues and how I found the solution. Then, click here for a later article I wrote about My Journey to Wedding Ready Skin. Here's a little preview of what my skin looked like below.
work with a professional to find what works for you
I am going to try to keep this post updated as my skincare routine changes and evolves! In today's post you'll find my current routine that is working really well for me.
Again, I want to emphasize that this is what has worked for me, which does not necessarily mean it is right for you. I'll always recommend seeing an expert first, such as a dermatologist and/or an esthetician, if you have any questions or concerns about your skin. I'm not an expert on skincare, which is why I see both of those people regularly!
Kansas City Skincare Professionals I Recommend
With that being said, I highly recommend my esthetician Rachel Naster if you live in the Kansas City area. In my "Journey to Wedding Ready Skin" post I describe the treatments I've done with Rachel over the past few years and how amazing they've been for my skin.
Rachel brought on another esthetician Sarah in the past year and I have heard nothing but amazing things about her! She was trained by the best in the biz, so you know she's gotta be good. ; )
In addition, I recently started seeing Dr. Rupp and his team at Dermatology Specialists of Kansas City and have had a great experience so far. My husband and I both get annual skin checks there to check for any suspicious or cancerous moles. On my last visit, they hooked me up with a few products to try, which I will talk about later in this post!
Disclosure: I was compensated by Dermatology Specialists of KC to visit and promote their practice and products; however, all opinions expressed are my own, as always. I was not paid to write this post.
some background on my skincare journey
Before I go into the products I'm using now, I want to give a little bit of background information. As I mention in my other skincare posts, I grew up with acne and tried every cream, pill, you name it, to get it under control.
However, I haven't mentioned in my previous posts that during the 18 months leading up to our wedding I was taking a medication called spironolactone. Spironolactone is essentially a diuretic, and in conjunction with birth control, a great way to treat adult female acne.
I will say that this pill was very effective for me and I got great results from it. I worked my way up to 150 mg a day leading up to the wedding, because I didn't want to worry about dealing with acne during all of our festivities.
Obviously, this is not a medication that you want to be on forever, so after the wedding I knew that I wanted to wean myself off. I was taking three pills a day, then I slowly cut back to two a day, then one a day, then finally, none.
This was a very gradual process over a couple of months. I was super nervous that I was going to have bad breakouts once I cut back, but much to my surprise, my skin didn't change much.
Now I have been completely off of spironolactone for several months and my skin is doing better than ever. This is not to say that I don't ever have acne and breakouts, because I definitely do sometimes, but it's much more under control than it used to be.
Rachel Naster did my makeup for our wedding and she did an incredible job. My skin looked flawless, thanks to her!
why i believe my skin has improved
I still attribute this massive improvement in my skin to the fact that I have finally invested both time and money into it by getting facials with Rachel every couple of months and using better quality products than I used to.
Most importantly, I identified and completely removed the allergen that was causing all of my really severe breakouts with the help of a dermatologist. (If you need to do allergy testing like this, I had mine done with Dr. Braden Rance in Overland Park! To clarify, they tested for common ingredients in household/cosmetic products; NOT food allergies.)
Do you really need a skincare routine?
By now you probably know my answer to this… but I'm going to go ahead and say a big YES. If you truly want to see improvements in your skin, whether you suffer from acne, or just want to reduce signs of aging, it's super important to devote some time, energy and money to skincare.
how do i start a skincare routine?
I know that starting a routine can feel overwhelming. Where do you even begin?! Well, I hope that this post is helpful and can at least give you some ideas of products to incorporate.
If you are starting from zero, I would recommend at least starting out with a good cleanser and moisturizer, and adding on from there!
Again, I am NOT a skincare expert and I am just sharing what has worked well for me.
My friend @shelb_ditch knows a lot about skincare and reviews different products often, so she would be a great person to follow! Check out her blog here.
Okay, time to get started!
my simple skincare routine and products i love
CLEANSERS: SkinCeuticals Foaming Cleanser
I have been using the SkinCeuticals Foaming Cleanser for a long time and love it. I've always been a big fan of foamy soap. I use this in the morning after I workout and in the evening before bed.
It locks moisture in and makes my skin feel great. The bottle lasts a long time and the price is very reasonable. I feel like it does a pretty good job of removing makeup too, but I use my Makeup Eraser (see below) to get rid of additional face makeup & eye makeup. Click here to purchase — $34 and lasts several months. 
CLEANSERS: Simple Foaming Cleanser — AFFORDABLE OPTION
Full transparency: I love this Simple foaming cleanser, too, and *gasp*, it is a drugstore product. But guess what? It does the trick and honestly my skin responds really well to it. I have really sensitive skin and it doesn't have any harsh chemicals, perfumes, etc.
This foaming cleanser is gentle, doesn't dry me out, helps to remove makeup (but I'd still recommend another form of makeup remover- see below) and it is super affordable. Click here for the Simple cleanser.
FYI: you do not need all of the cleansers I mentioned. One or the other will do! If you want to start with more affordable options, you might try Simple first.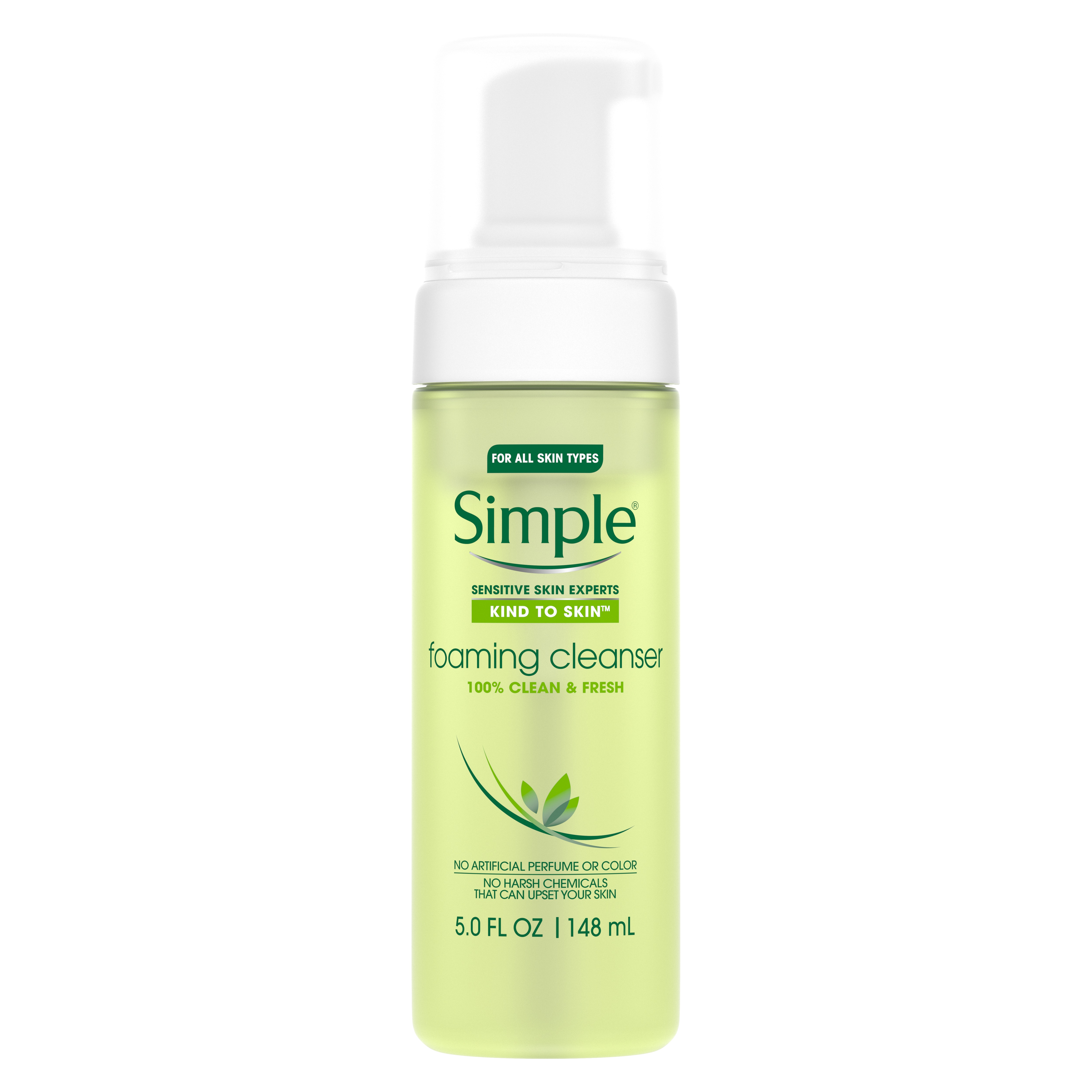 CLEANSERS: Image Skincare Vital C Hydrating Facial Cleanser
I have recently been rotating between a foaming cleanser and this hydrating cleanser from Image Skincare. (I like using the foaming cleanser at night to help remove makeup, and the Vital C cleanser in the AM when I have a fresh face).
This is a creamy cleanser and it feels great on the skin. It helps remove impurities and nourishes the skin with antioxidants and vitamins. It infuses skin with high levels of the antioxidant vitamin C to brighten as it cleanses.
I'm a BIG fan of the Image Skincare Vital C line and really feel like it has helped prevent my skin from drying out this winter!
CLICK HERE TO SHOP THE IMAGE VITAL C CLEANSER.
I use this Makeup Eraser cloth to remove my face and eye makeup after cleansing with the foaming face wash at night. The face wash helps remove some, but using this allows me to really scrub and remove as much makeup as possible, which helps me avoid breakouts.
Thoroughly removing your makeup every night before bed is SO IMPORTANT if you want to improve your skin!
I love this cloth because you can throw it in the washing machine and reuse it, which saves so much money and waste from typical makeup remover wipes! It's also gentle on skin, unlike some of the alcohol-based makeup removers.
I like using the black so my mascara doesn't make the cute colored ones look all gross. ; ) Shout out to my friend Shelby Ditch for recommending these!
CLICK HERE TO SHOP THE MAKEUP ERASER.
I have used this lightening serum for years and love it. It smells amazing, and it can help with evening out skin tone, discoloration, hyperpigmentation, and more. It is safe for people with sensitive skin.
I apply this in the morning and evening after I wash my face or after I apply retinol.
CLICK HERE TO SHOP THE IMAGE SKINCARE INTENSE LIGHTENING SERUM.
Image Skincare Vital C Hydrating Anti-Aging Serum
Currently I am using this Vital C Anti-Aging Serum INSTEAD OF the Intense Lightening Serum. They sent me some to try and I've been absolutely loving it. Again, it is a hydrating product, so I wanted to give it a try during the winter time when my skin tends to be DRY AF.
This serum is appropriate for all skin types and is clinically proven to support collagen synthesis. It brightens and tightens skin and protects against the effects of environmental damage. It feels pretty great on the skin, too!
CLICK HERE TO SHOP THE VITAL C ANTI-AGING SERUM.
MOISTURIZERS
For years I avoided wearing SPF on my face during the day because I couldn't find an SPF moisturizer that didn't feel sticky, oily or make me break out. These are the first few that I've tried and LOVED.
Wearing SPF is another KEY STEP in protecting your skin and preventing signs of aging (as well as skin cancer)! The small bit of SPF that might be in your foundation isn't enough. Get a face moisturizer that has 30+ SPF too.
For a long time I used the matte (clear) version, but for the summertime I love the tinted version. It provides the perfect hint of bronze, so if I want to run errands or go somewhere without doing my makeup on the weekends, I feel fine wearing nothing but this lotion!
I love the way it feels on my skin and especially the fact that it's protecting me from sun damage. I cannot recommend this lotion enough! It is appropriate for oily & acne-prone skin types. Also doubles as a primer to create a healthy glow before makeup application.
CLICK HERE for the Image Skincare Moisturizer with SPF.
CLICK HERE for the tinted version.
eltaMD Tinted Moisturizer with SPF
This tinted moisturizer from eltaMD is what I have been using most recently on my face during the day. I feel like it is perfect for all skin tones (more of a subtle tint than the Image moisturizer) and makes your skin feel soft and smooth. Makeup goes on really nicely after applying this.
CLICK HERE FOR ELTA MD TINTED MOISTURIZER.
CeraVe Moisturizer
I know this is a very popular lotion and the best part is that it's super affordable. This would be a good option for night time.
I am currently using a Face Reality moisturizer at bedtime that I get from Rachel Naster, who is a Face Reality specialist. They do sell their products online, but it would be best to work with an esthetician to see which products are right for you.
CLICK HERE TO SHOP CERAVE LOTION.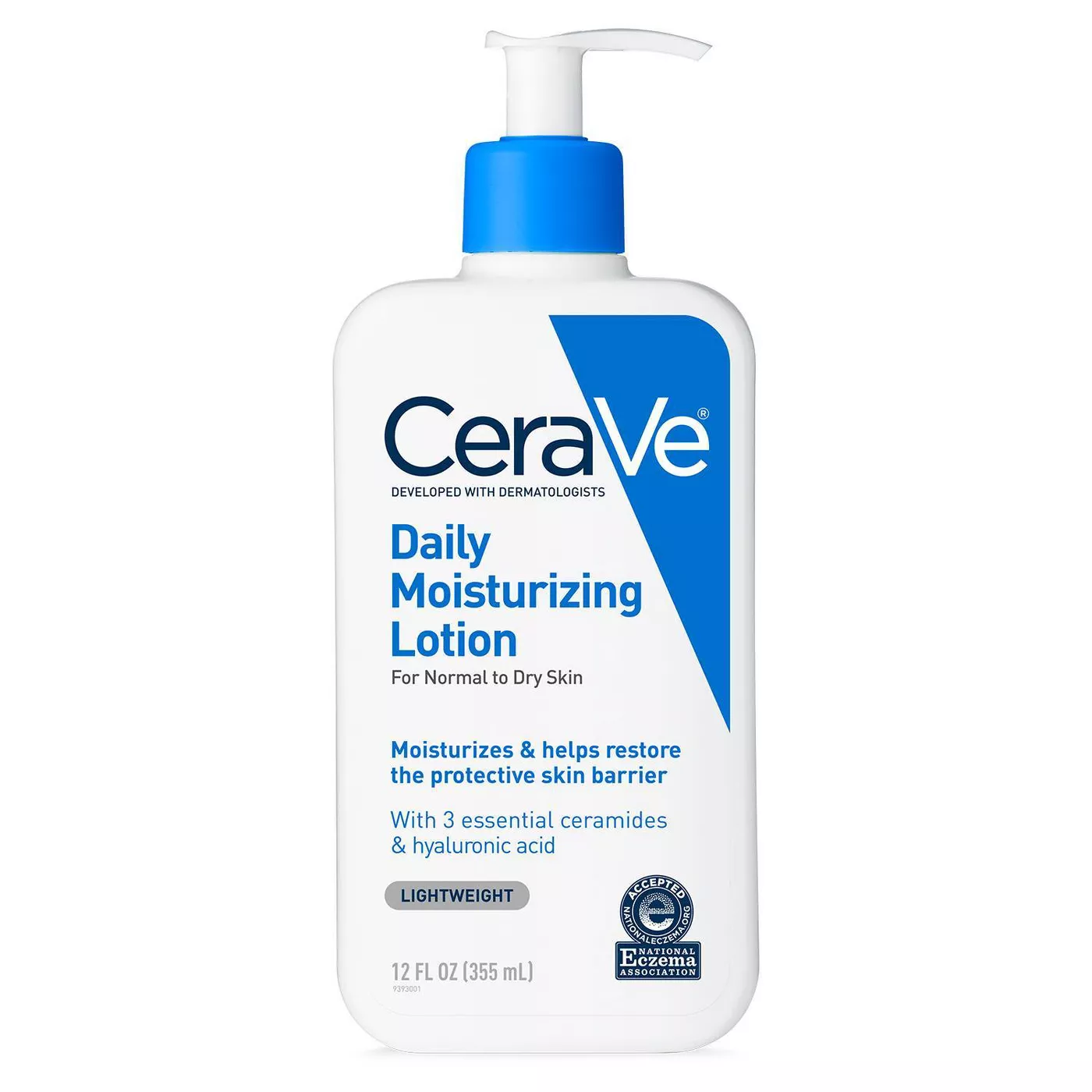 If you've never used a retinol cream before, it's best to start at a lower level (such as 0.25) and work your way up, as it can cause some dryness and irritation if your skin isn't used to it.
Back in my worst acne days, Retin-A was one of the things I tried. This was a prescription strength cream that was prescribed by my dermatologist. It was effective, but very drying.
I was off of retinol products for a long time, so when I started using this product, I began with the 0.25 strength. This kind does not require a prescription (but you might consider talking to a dermatologist or esthetician before starting it).
In addition, you should NOT use Retinol if you are pregnant or planning to become pregnant.
Apply retinol in the evening after cleansing and toning and prior to applying your moisturizer. Start by using it 2-3 times a week and slowly work your way up to daily use as tolerated.
Since retinol makes your skin sensitive it's extra important to wear sunscreen on your face daily and/or wear a hat outside.
CLICK HERE TO PURCHASE SKINMEDICA RETINOL.
You can also purchase it from Dermatology Specialists of Kansas City if you are local and need to visit the dermatologist for an annual skin check anyway! 🙂 
Benefits of retinol:
Enhances skin tone, texture, and resiliency
Diminishes appearance of fine lines and coarse wrinkles
May also help fight acne
Lip Enhancement Complex
These two glosses are really the only things I use on my lips these days as far as "chapstick" goes. I used Carmex for WAY too long and finally got myself off of it.
I highly recommend checking these products out! They moisturize, reduce the appearance of fine lines and also support lip volume and firmness.
CLICK HERE TO SHOP THE IMAGE LIP COMPLEX PRODUCTS.
Final Thoughts
If you have concerns about your skin or want to start getting regular facials, I cannot recommend Rachel Naster enough. She is a miracle worker! I truly don't think my skin would look near as good as it does today if it weren't for all of her amazing work and support over the years.
Even if it is something you can't do every 6-8 weeks due to financial reasons, lack of time, or whatever it may be, I want to encourage you to try it out at least once. I think you'll find that the investment is worth it, and it may help you to make your skin health more of a priority.
I would also urge you to consider trying some of Rachel's products or the ones that she sells (such as Image Skincare, Skinceuticals, iS Clinical, Face Reality, etc.), because they are all great quality and obviously have her stamp of approval as a skincare professional.
get an annual skin check to prevent skin cancer
Lastly, if you have not had your annual skin check (or ever had one) I want to urge you to get this done as soon as possible. Summertime is a great time to get checked since we tend to spend a lot more time out in the sun during these warmer months. I am extremely passionate about this, as both of my parents have previously had skin cancer.
My mom was diagnosed with melanoma a few years ago and has a huge scar in her back to prove it. Thankfully, a friend of hers encouraged her to get a skin check and the dermatologist found it in its very early stages, so she is currently healthy and cancer-free.
Skin checks take hardly any time at all, are completely painless, and could potentially save your life, so please don't put this off! Again, the staff at Dermatology Specialists of KC are great and would love to see you for this.
Otherwise, make sure you are protecting your skin daily by wearing broad-spectrum sunscreen and wearing a hat/seeking out shade when you're going to be outside for long periods of time.
I hope this post was a helpful reminder to invest in yourself and your skin! Please let me know if you try any of these products and what you think!
questions? reach out anytime!
I hope you enjoyed reading about my simple skincare routine and products I love and got some ideas for yourself!
If you have any questions or comments about anything in this post, please don't hesitate to reach out to me! You can do so via DM on Instagram @wellnessforthewin or email me at [email protected].
I have linked all of the products above for you, as well as in the @liketoknow.it app. Go follow me there if you want to easily refer back to it!
Thank you for reading and have a great week!
Shanna