5 Delicious Ways to Use Pumpkin Pasta Sauce This Fall
Fall is right around the corner and I don't know about you, but I am READY. Especially since the famous ALDI pumpkin and butternut squash pasta sauce is already back in stores!!! If you've never had it – trust me. You need. Every year I get questions on how to use this sauce, so I thought it might be helpful to share 5 delicious ways to use pumpkin pasta sauce this fall if you are ready to give it a shot!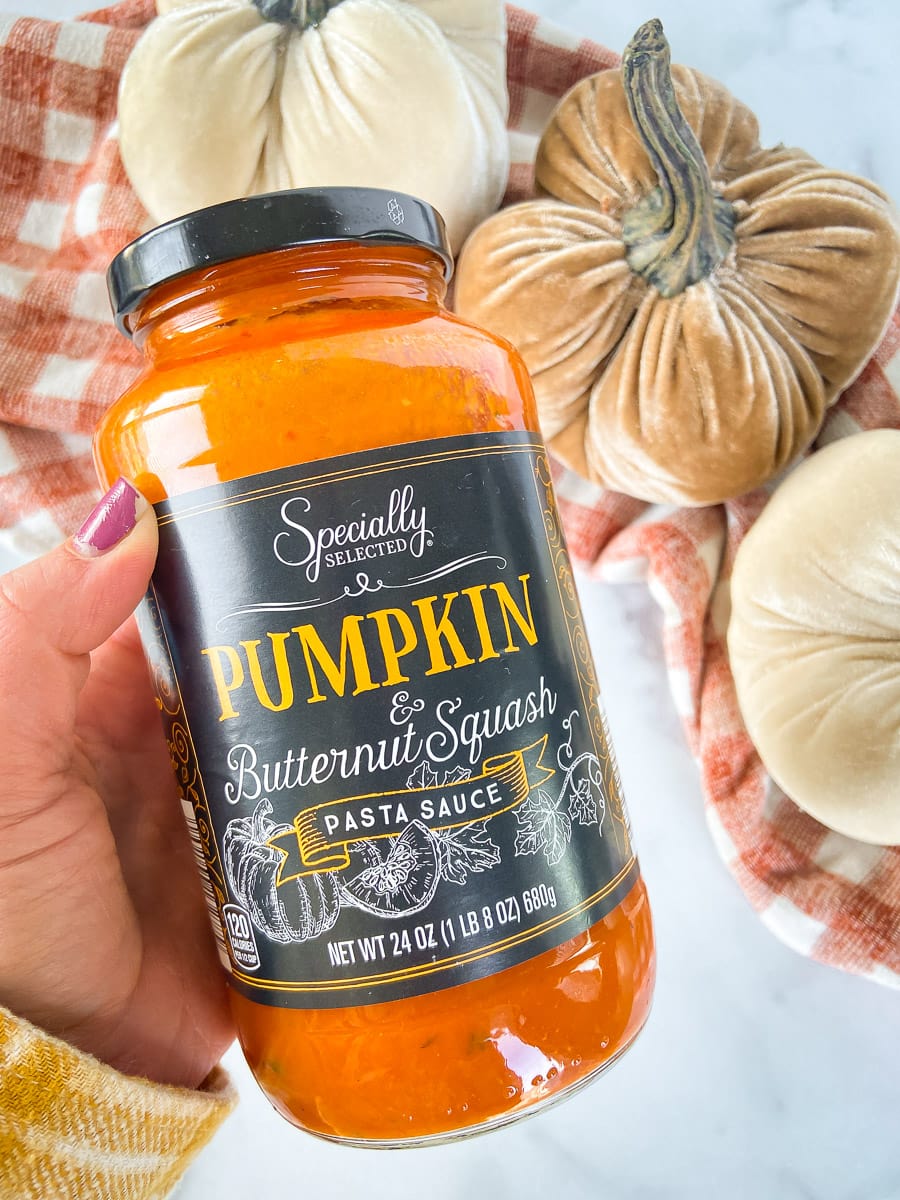 Also, if you sadly do not have an ALDI store near you, then you can probably find another very similar option in other grocery stores, and all of the same suggestions will likely apply!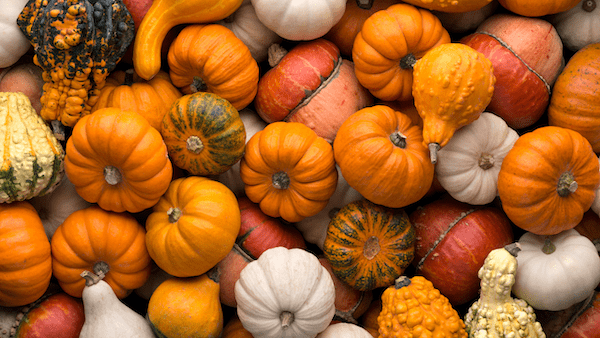 what does pumpkin pasta sauce taste like?
The ALDI pumpkin and butternut squash sauce is not *overly* pumpkin-y in my opinion, and it's just so delicious. It has the perfect combination of fall flavors that we all know and love around this time of year.
It does contain tomato puree as well, so it still has a similar flavor as normal pasta sauce, but with a greater hint of pumpkin, and of course, butternut squash.
is pumpkin pasta sauce healthy?
Yes! This sauce contains mostly healthy, whole food ingredients like vegetables and spices. It does have 3g of added sugars per 1/2 cup, but I'm not too concerned about a few grams! It is, however, fairly high in sodium, at around 520 mg per 1/2 cup (which is not unusual for pasta sauce), so just one thing to be aware of.
With that said, it can definitely be included and enjoyed in a well-balanced diet!
Ingredients are listed in the order of greatest quantity, and the first three ingredients are: "pumpkin puree, tomato puree (water, tomato paste), and butternut squash puree."
Pumpkin and butternut squash are both rich in vitamin A, and tomatoes are rich in vitamin C and potassium.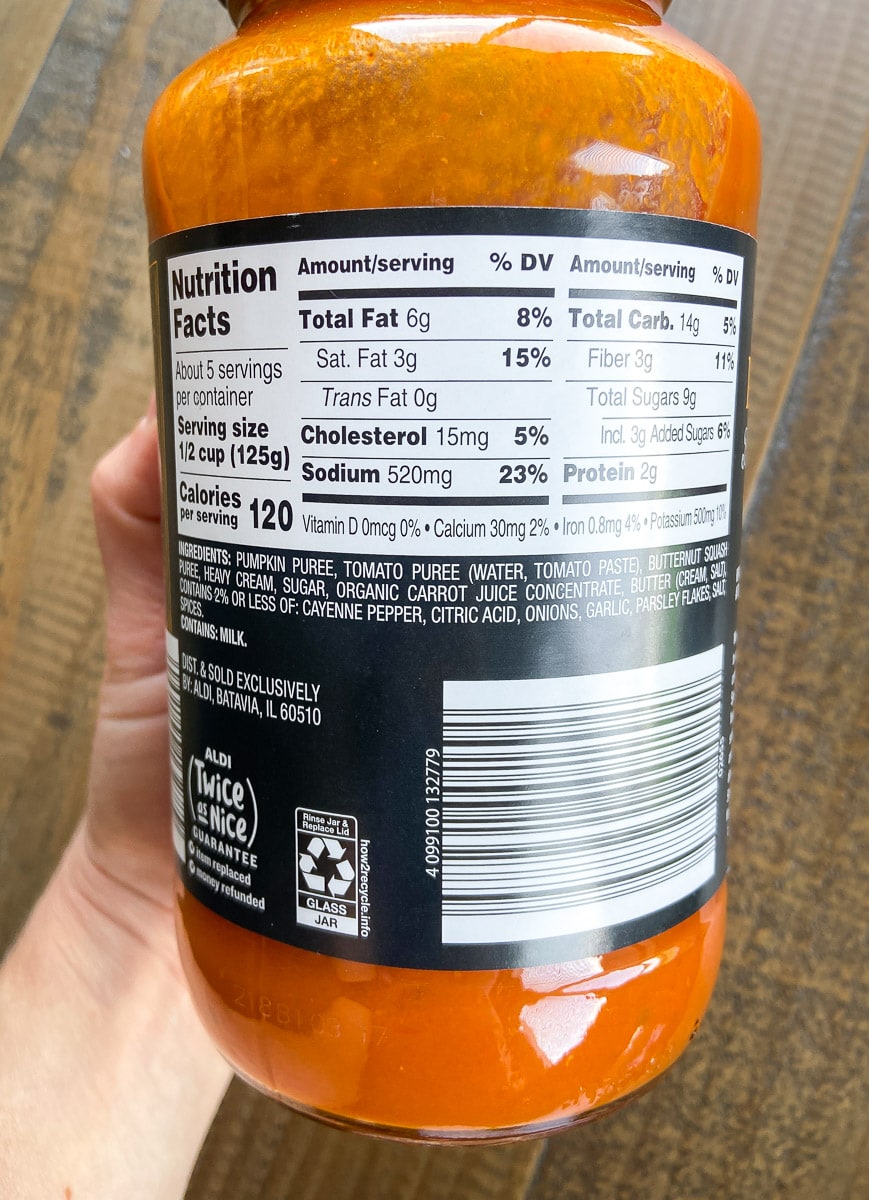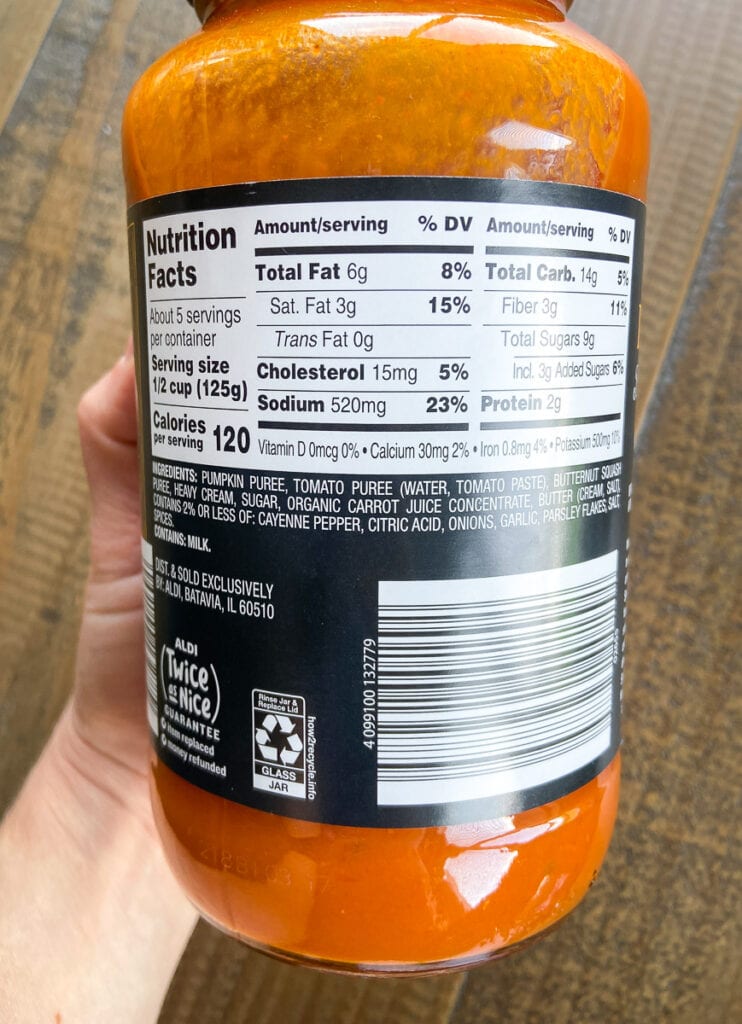 what are the best ways to use pumpkin pasta sauce?
This is the most common question I get regarding this pasta sauce. On the label, they suggest serving it over tortellini or ravioli, but we honestly use it almost anywhere you'd use normal marinara sauce!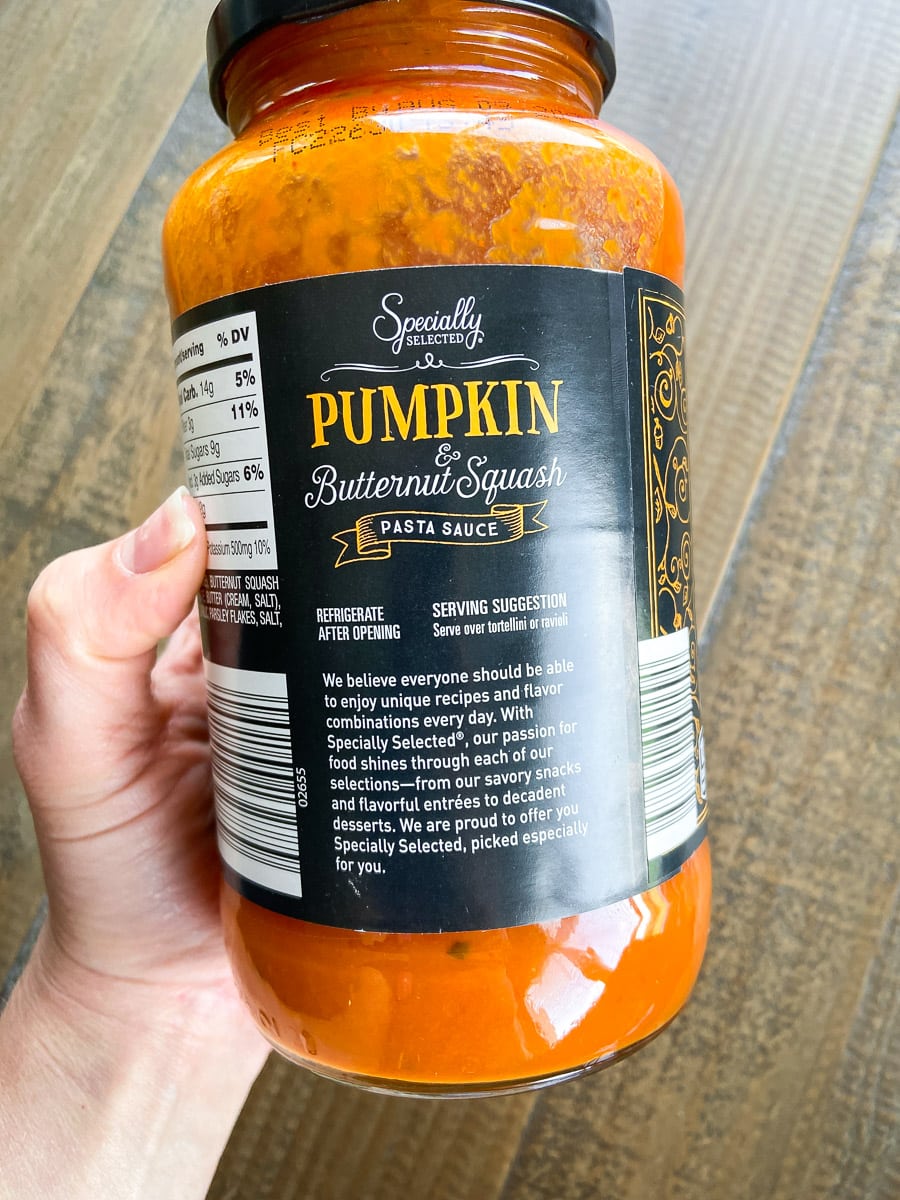 Check out some of my suggestions and delicious recipes below so you can try it out!
5 delicious ways to use pumpkin pasta sauce this fall: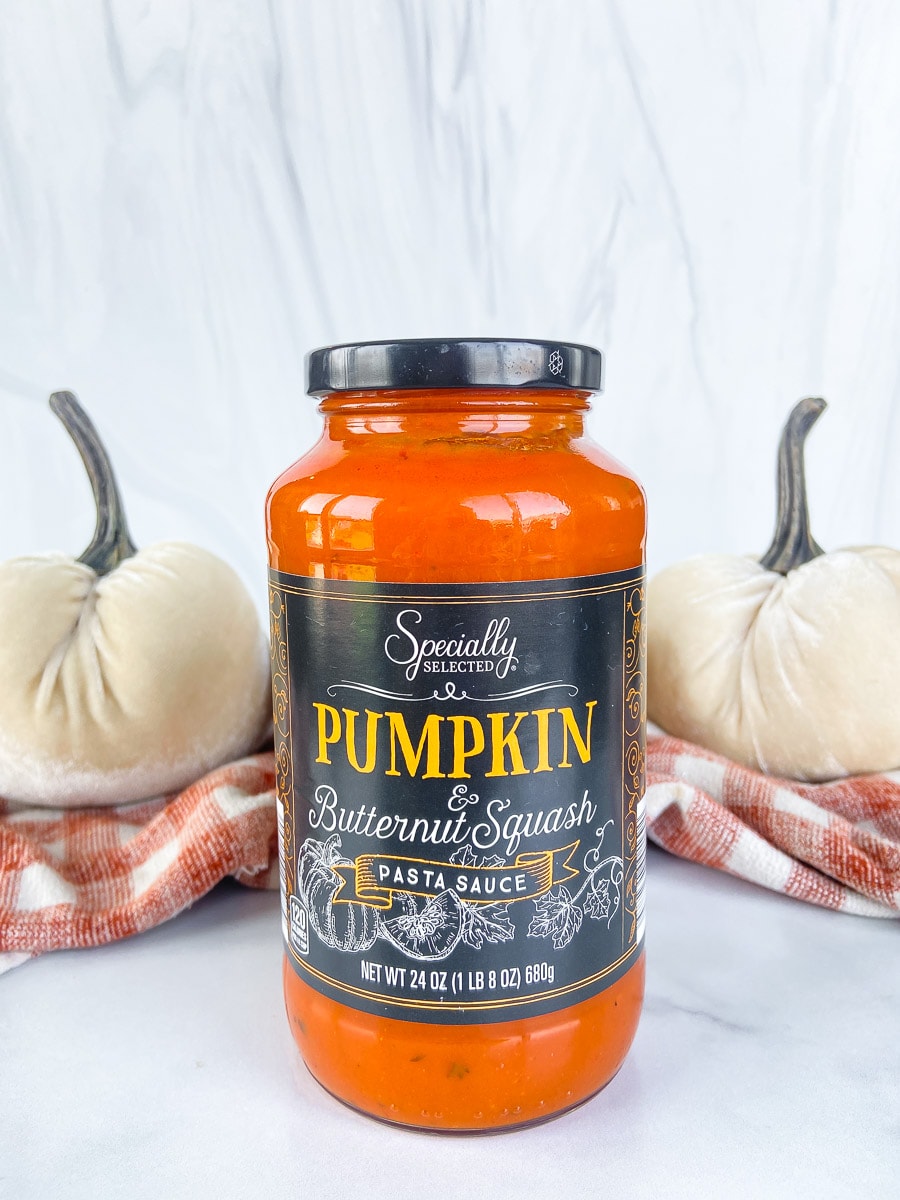 healthy crockpot lasagna with chicken & veggies
This recipe is SO delicious and one of my most popular for a reason. It's easy to throw together, less labor intensive than regular lasagna, and always a crowd pleaser. It's even kid-friendly and picky-eater approved!
Grab the recipe for my crockpot lasagna here!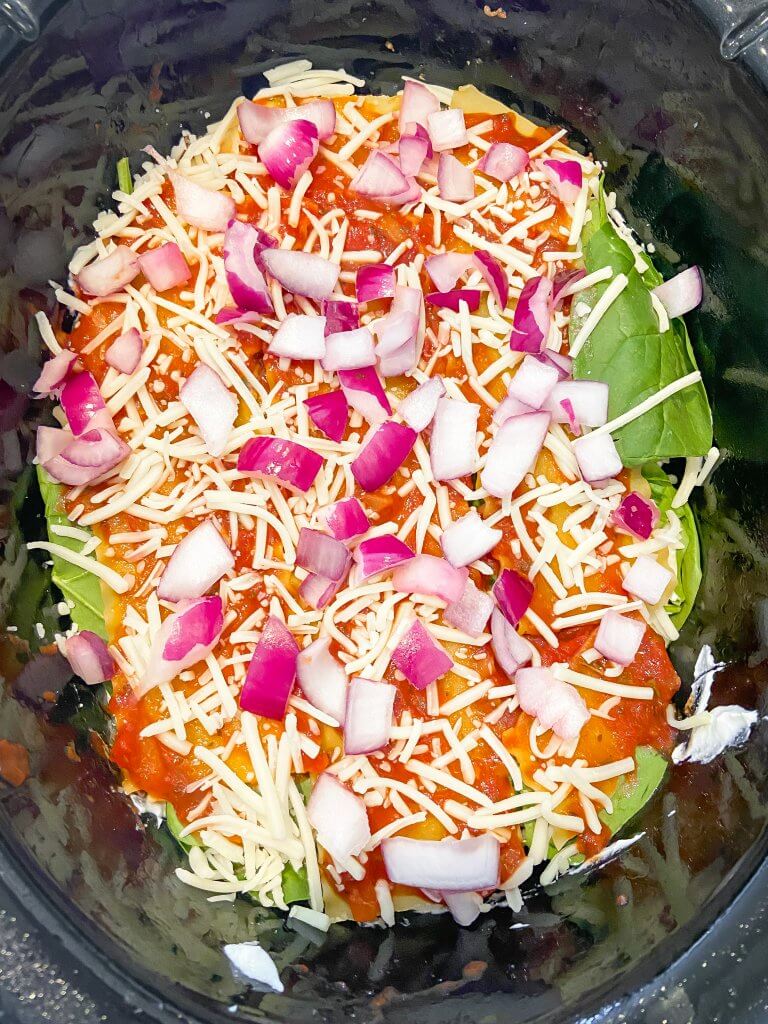 lasagna roll ups
These lasagna roll-ups are slightly more labor intensive than most of my recipes, but TRUST ME. They are worth it. Plus, they're fun to make! Just plan to make these on a day you know you have a little more time, like Sunday night, or grab your partner to help! They're SO good.
Get my lasagna roll-ups recipe here.
veggie flatbreads
If you've been a follower for a while, you know these Veggie Flatbreads well. They were one of my very first recipes on the blog and we used to make them EVERY week for Meatless Monday dinner! We still absolutely love them because they're yummy, so quick and easy to make, and you can easily mix up the toppings each time. If you have a picky kiddo, let them pick out their toppings and "decorate" their own pizza!
Get the recipe for my veggie flatbreads here.
spinach tomato chicken tortellini
If you have a Blackstone griddle, you MUST try this recipe, whether you use the pumpkin sauce or not. We haven't tried it with the pumpkin sauce yet, but it's definitely on our list. This recipe is also super easy and requires minimal prep, and provides awesome leftovers.
Click here for the tortellini recipe.
healthy ground turkey pasta bake
My Healthy Ground Turkey Pasta Bake is another easy way to get in a good mix of protein, veggies & healthy whole grains. You can use any ground meat that you prefer! It's equally delicious with the pumpkin sauce.
Click here for the pasta bake recipe!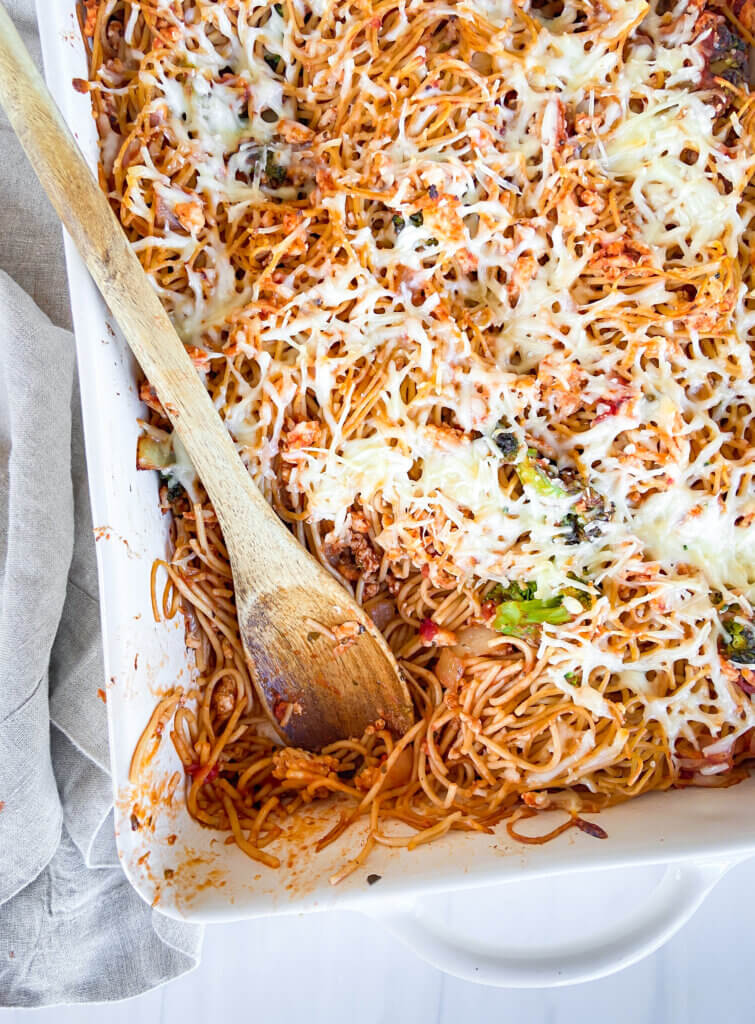 more pumpkin recipes to try this fall:
Here are some other blog favorites you might enjoy if you're in the fall spirit!
Now run to your nearest ALDI or whatever grocery store you have near you and grab some pumpkin pasta sauce so you can try these delicious recipes with a little fall twist!
Be sure to tag me on IG @wellnessforthewin so I can see what you make!
Enjoy 🙂
Shanna